Podcast: Play in new window | Download (Duration: 54:13 — 74.9MB) | Embed
Subscribe: Google Podcasts | Spotify | Amazon Music | Stitcher | Email | TuneIn | Deezer | RSS | More
Gemma scrolled through page 3 of Google search, she was desperate to start a business with 10K because she wanted things to be different.
She had enough of what she now experienced in her life so she needed a change.
You see, Gemma's husband died of cancer a few years ago which took her by surprise.
As a middle-aged widow with two young children, she was not ready to face life as a single mom.
I mean, Greg, her husband, was so strong and healthy. So, when the consultant told her to prepare for the worst it came as a complete shock for her.
Luckily, Greg had life cover and a really generous death in service benefit that covered the mortgage and day-to-day living expenses.
Although Gemma didn't need to worry about the basic bills there was one thing that kept her awake at night.
What can she do now with her life? Who was she now that Greg is gone? What does she want her future to look like?
Let me know if you are facing these challenges.
You've always wanted to be your own boss but you don't know where to start
The thought of opening a shop scares you to death, what if nobody will buy your products
Opening a local bakery or coffee shop sounds cute but it would take a lot of work
Working from home would actually suit you better but can you run a business from home?
Most franchises cost more than $10,000 to join so what business can you start?
If only there was a way to quickly and easily assess which type of business you can start and run successfully with $10K.
In this post, you'll learn all about the type of businesses you can start for less than $10K that'll bring in $5,000 to $10,000 a month in less than 12 months.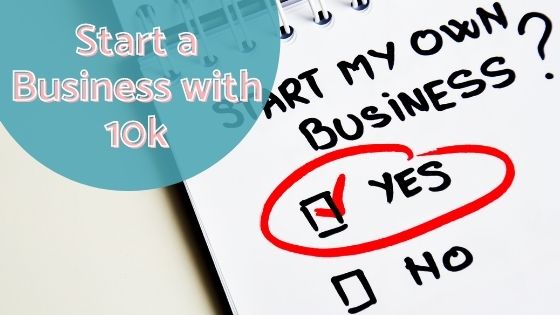 Small Business Statistics
Before diving into these business ideas for $10k or less let's look at some small business statistics.
Did you know that there are over 29 million small companies in the US? This statistic was kindly provided by the folks at Findstack.
What's even more interesting is that 50% of small businesses start at home.
It reminds me that last week I made a loaf of wicked vegan banana bread and I'm considering selling it locally (pipe dream).
Let me not distract you from the core numbers, 29% of small business owners stated that they started their business to be their own boss.
While 17% said that they were dissatisfied with corporate America.
Are you a teeth grinder? Lol!! Just reading that statistic made me grind my teeth unconsciously (I'm not sure how to get rid of that habit).
The number one statistic that I always find surprising is that 99% of businesses in the US are small businesses. Thanks to the folks at Thrive My Way for this fact.
Here's the statistic that causes potential entrepreneurs to get wobbly knees. 50% of startups fail within the first year of business.
Just when you think that statistic was bad, this one will send you screaming back into your safe and comfortable office cubicle.
95% of small startups fail within the first 5 years.
Do you still want to be your own boss?
Let's face it starting and running a business is hard work. What can you do to make it easier?
Know Yourself
What if I told you that one of the secrets of succeeding in business is getting to know yourself intimately?
So many people walk around on this earth and they have no idea what they want in life.
I know because I've been in their shoes.
Let me ask you a question, have you ever created a vision board?
Or have you written down your goals for the next 3-5 years in granular detail?
If you believe that starting and running a business is hard then you haven't tried writing down your goals.
In my opinion, it is a lot harder to define my goals and dreams in every tiny detail.
Let me ask you another question, what are the things that you don't want in your business?
Only recently I was asked this question and I stumbled a bit before writing down a few paragraphs.
We all suffer from shiny object syndrome in life because we are not clear about what we want and don't want.
I want to challenge you to spend time this coming weekend writing down your 3-5 year goals and dreams.
When you're finished set aside time to write down what you don't want.
Ideal Client Avatar
It is only after you know what you want out of life can you determine who is your ideal client avatar.
If you want to open a bakery or a coffee shop then can you write a detailed description of who are your customers?
Here are some questions to consider to understand your target audience.
Age
Gender
Where do they live? (country, city)
Do they live in a house or an apartment?
Their neighbourhood, what does it look like?
What are their daily, weekly, monthly or annual challenges?
Outline their biggest needs?
The kind of problems they are trying to solve personally, financially
Their deepest desires and dreams for them and their family, what are they?
In terms of their biggest fears, what are they? (not spiders, emotional ones?)
Do you get their short-term and long-term goals?
Any idea of their good and bad habits?
What gets them excited?
The stuff that annoys them, what are they?
Their passion projects, what are they?
Where do they spend the most time online?
List the kind of items they spend their money on when they get paid?
What type of podcasts do they listen to?
Which software and/or apps do they use?
While these questions are not exhaustive, they'll give you a head start in terms of getting to know your customers better.
Quick Tip: If your typical customer is someone who shops in the make up department at Macy's then it's a good place to do some people watching.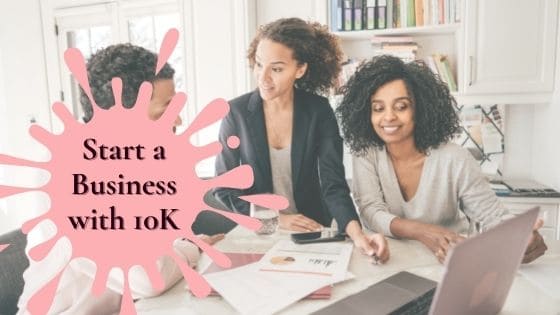 Business Models
I just thought of something that made me laugh out loud.
Many business advisers will tell you that you need to write a business plan before starting a business.
I am going to disagree with that advice and say that it depends on your business.
When I started my first business over 20 years ago I was obsessed with writing business plans.
My latest business venture that I started less than 5 years ago doesn't have a business plan (at least not a traditional written one).
However, my business generates over $5,000 every month so I must be doing something right.
What I discovered in recent years is that adopting a business model is better than focusing on a business plan.
There are some people who went to school and got an MBA who would disagree with me. I challenge you to ask them if they ever ran a successful business.
Book knowledge can only take you so far. I've started many types of businesses and failed at a number of them (okay, maybe not outright failure but the model didn't align with my goals).
Here are a few business models for you to consider.
Ecommerce
Software as a Service
Agency
Course Creator
Local Shop
Coach
Online Service Provider
You'll notice that I didn't mention franchising at all because the franchise fee for most franchises is more than 10K. I bought into two franchises in my lifetime.
Let's briefly look at each of these business models to help you figure out what you want to do.
1. E-commerce
The world of e-commerce establishments incorporates all different kinds of models. These include manufacturing and selling your own products, dropshipping and affiliate marketing.
One of the biggest challenges of the e-commerce business model or setting up an online store is that you'll need to sell a lot of product units to make 6-figures.
If your products are high-priced then sales would be a lot slower.
The biggest disadvantage of the e-commerce model is the profit margins are normally quite slim.
2. Software as a Service (Saas)
Earlier this year I had the most interesting light bulb moment. Did you know that Airbnb is a Saas company?
Everyone and their children know that Salesforce is a Saas company but to think that Airbnb falls into that category was unthinkable for me.
The thing that the customer interacts with the most is the app.
Traditional Saas companies get paid 365 days a year for renting their platform to you but companies like Uber, Airbnb and Zip Car offer pay as you use services.
3. Agency
As the name suggests with an agency you'll be handling the relationship between the buyers and sellers of a service.
If you enjoy offering a solution to small businesses but you want to be able to manage the business while others provide the service then you'll like this model.
You can start small and work your way into a role that's more visionary.
A good example of this is a social media management agency.
4. Course Creator
One of the most exciting business models on the planet is becoming a course creator of online courses. Why?
Because you get to pull stuff from your brain and teach others your secrets to success.
As you'll see later the costs to get started using this business model will depend on a few factors.
There are a ton of people who spend too much time and money creating courses that don't sell so do your research before attempting this one.
5. Local Shop
This is probably one of the easiest businesses to start if you're in an area where there isn't another shop for a few hundred miles.
Humans are innately lazy (I see it all the time). They like the convenience of getting the stuff that they need without having to work too hard for it.
If you don't believe me check out the convenience section in the fruit and vegetable department.
Lots of chopped vegetables and fruits.
6. Coach
There's currently a lot of argument about the authenticity of some coaches.
Some people question how someone in their 20s could be qualified to coach someone in their 40s and 50s.
I've never hired a coach before so I couldn't advise on this topic.
Yes, there are accredited bodies set up where people can become certified coaches and they charge between $5,000 and $50,000 for their coaching programs.
The main difference between a course creator and a coach is this.
A coach doesn't have a generic course for you to consume, their program is mostly custom-designed for each person (hence their high fees).
7. Online Service Provider
In my opinion, the fastest way to generate an income for any business is by providing a service to another digital business.
All you need is an internet connection, a client base and a small investment to get started.
You'll have plenty of opportunities to help many successful businesses.
What's neat about this is that there are so many services that entrepreneurs need to keep their business functional.
From social media management to launch management and everything in between.
All you need to do is decide which one you're passionate about so that you can start offering it to others.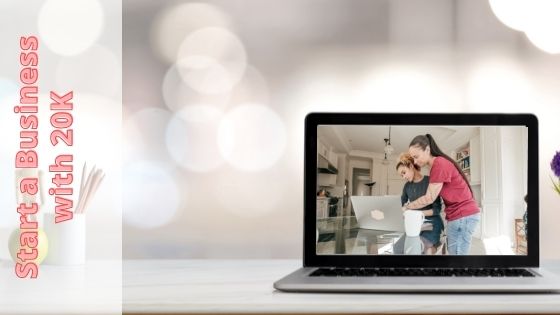 21 Ideas to Start a Business with 10K
Now that you know yourself, what you want and don't want in business.
You have a better idea of your potential customer and you know more about business models.
Let's look at a few potential profitable business ideas that will help you start a business with 10K broken down by category.
Ecommerce
1. Dropshipping
One of the fastest ways to get started with an e-commerce business is by doing dropshipping.
Believe it or not, I had a dropshipping business a few years ago and I tried both having my own store on Shopify as well as operating as an Amazon reseller (Amazon FBA).
Setting up your own Shopify store will require you to work really hard to drive traffic to your shop.
Becoming an Amazon reseller means getting approved by Amazon first and buying goods wholesale.
For your goods to qualify for Amazon prime you'll need to have the goods shipped from Amazon's warehouses.
There are quite a number of 3rd party companies that will help you package and ship your goods to Amazon.
Just search Google or any of the search engines for Amazon FBA services or providers. Being an Amazon reseller can be a lucrative business.
I simply purchased my goods online (goods in high demand) and had them ship to my service provider who then packaged them up and shipped them on to Amazon.
In my opinion, this is a low investment with an attractive startup cost.
Initial investment: $1,500 – $3,000
Potential monthly income: $1,000 – $2,000
2. Your own product (candle making)
You might decide that you want to manufacture and sell your own goods rather than purchase other people's products wholesale.
A good example of this would be a candle making business or other handmade products that you can sell on Etsy.
The reason that this could be difficult is that you'll need to invest time, energy and money to develop a proven product using your own equipment.
One reason people choose to go the route of becoming an Amazon reseller is that they can sell someone else's candles or other people's products giving them the product data (trends, scents, colours, etc).
With this data, they can create their own version based on feedback from customers.
Initial investment: $1,000
Potential monthly income: $1,000 – $2,000
3. Affiliate Marketing
Promoting other people's products on your existing website or via email is something I did as well for many years.
I literally got an affiliate payment last week.
I would consider this method the lowest barrier to entry in the world of e-commerce.
However, I must warn you that the returns on investment aren't great.
There's a misconception that this road is easy peasy but it's not. The biggest return is when you're doing affiliate marketing for items such as food, beauty products or weight loss.
This is because these goods are consumed regularly compared to goods purchased once in a lifetime.
Initial investment: $500
Potential monthly income: $50 – $100
---
Software as a Service
4. Rent a Room (Tourists)
Depending on where you live this may be a viable option for you.
If you have a spare bedroom or a spare house you can rent it out to visitors from around the world.
The only things that have a negative effect or cause disruption to this kind of business are natural disasters and a global pandemic.
In case you didn't notice this requires very little investment but the returns can be handsome.
I was an Airbnb host for 3-4 years so I'm talking from experience. It is an excellent opportunity to start a business with little money.
The only reason why I'm no longer an Airbnb host is due to new government regulations where that income is heavily taxed.
Initial investment: $500
Potential monthly income: $200 – $1000
5. Experiences (for tourists)
Would you consider yourself an amazing cook, an incredible local tour guide or an entertaining host?
Well, I've got just the business for you.
I recently booked a place on Airbnb for 10 days and straight away I was brought to the page with a ton of local experiences.
Do you know which one piqued my interest? A photography experience in that local city for only $70!
I almost booked him. The only reason I haven't booked it yet is that I'm not sure what day and time are best for a photoshoot.
So, if you have a skill that you can offer in exchange for a service, don't hide it under the bed.
Use it to generate an income because tourists will pay you for it.
Initial investment: $500
Potential monthly income: $500 – $1000
---
Agency
6. Digital Marketing Agency
I can go on about establishing a digital marketing agency for days but I won't. Lol!!
The reason why agencies are important to some small business owners is that they want to be able to use a one-stop-shop.
In other words, with a limited budget, they can get access to a breadth of digital marketing services.
These services can include copywriting, social media management, SEO and web design for a packaged price.
There is no need to deal with 4-5 different people to get all the services.
Plus entrepreneurs get to grow their business faster using this service.
So, if you feel that this is something that you can set up, run and manage then go for it.
You'll need to hire subcontractors to help you deliver the services.
Initial investment: $1,500
Potential monthly income: $50,000 – $100,000
7. Sourcing Agency (Alternative)
There is a different kind of agency model that you can use where you don't need project managers or to manage a team.
You simply introduce the client to a subcontractor and you bill the client upfront each month.
At the end of the month, the subcontractor would bill you and you pay them.
This agency model is not a one-stop-shop but you'll just be matching clients to subcontractors based on their requirements.
You get paid every month for keeping everyone happy.
Initial investment: $1,500
Potential monthly income: $25,000 – $50,000
---
Course Creator
8. Self-Study Course
When it comes to the delivery of courses there are so many models available for course creators.
In case you don't understand what this means, it's basically a course delivered 100% online that is pre-recorded.
There aren't any live elements in it and there isn't a community.
If you have a question as a student you can send an email to the course creator and they'll get back to you.
Depending on the length of the course you can charge between $37 and $597 as a one-time fee.
If you decide to sell your course on a marketplace like Udemy, Coursera or Skillshare then students pay less for access to your course.
Initial investment: $500
Potential monthly income: $2000 – $5,000
9. Group Coaching Program
The name of this one will sound confusing but it is different from what a coach does because everyone is accessing the same content.
What makes this different from a self-study program is that there is a live coaching or Q+A component.
There's also a community aspect where everyone gets to ask questions and cheer each other on in a group setting.
Platforms that allow you to do this include Slack, Facebook groups, Circle and Mighty Networks.
The more direct access students have to you as a course creator the higher the price of the program.
These programs can be 6 weeks to 12 months in length and the price per participant ranges from $500 to $12,000.
Initial investment: $1,500
Potential monthly income: $10,000 – $250,000
10. Mastermind
Well, this could easily be the pinnacle for course creators.
The attraction of a mastermind program is that you get to rub shoulders with other people in your industry who are millionaires.
Yes, your students will get access to a vault of programs that they can use for their business.
However, the main attraction is building a valuable network of business professionals.
The program normally lasts 12 months and each participant is expected to invest $25,000+ for the year.
If you are already a well-connected person this program can bring in healthy profits and long-term revenues for your business.
Initial investment: $5,500
Potential monthly income: $50,000 – $500,000
---
Local Shop
11. Bakery
There is such a huge requirement at the moment to cater for many different types of diets.
We've got keto, celiac, vegan, vegetarian, kosher, halal, wheat-free and many more.
This demand drives the need for convenience foods that cater to these diets.
Just recently I wanted to celebrate a milestone in my life so I went to the local bakery and asked for a vegan cake.
Believe it or not, they didn't have any. It was very sad for me. Lol!!
When it comes to baked goods you can start from your kitchen table by delivering free samples to the neighbours.
You can also offer to bake cakes for special occasions charging a lower price so that you can build up a list of clients.
Initial investment: $500
Potential monthly income: $5,000 – $7,000
12. Convenience store
If you ever live in the sticks or the middle of nowhere you'll know how difficult it can be to just nip down to the shops to pick up bread and milk.
This is where a local convenience store comes in handy.
Depending on where you live right now it might be a good idea to open a convenience store to cater for the needs of your community.
Do a survey in your local area to assess their needs and you'll be pleasantly surprised what is missing.
I have a friend living in a local town and in the last year both the bank and post office closed down.
It is difficult to imagine life without a post office.
Initial investment: $5,000
Potential monthly income: $5,000 – $50,000
13. Coffee Shop
When you want to meet up with a few friends for a chat and a chocolate brownie, where do you go?
I remember how weird life was during the pandemic when coffee shops were closed.
Goodness! There wasn't a single place to hang out.
Working from home means getting away from the house once a week and meeting up with friends for a bite to eat is welcomed.
Now that more and more people are working from home they need a place to work temporarily outside of the house.
A great co-working space is a coffee shop.
You'll need those expensive coffee machines to make delicious coffee (I don't drink coffee but I heard people say it tastes good) lol!!
Initial investment: $5,000
Potential monthly income: $5,000 – $10,000
14. Food Truck
Recently I watched a video of a guy transforming an empty piece of land into a thriving food market or street food business.
It was a time-lapse video where he brought in 6 x 20-foot containers and he hired skilled tradespeople to kit them out.
There will be a variety of foods available in the local area which makes it very exciting.
It's amazing how the food truck idea seems to be taking every country and city by storm.
Something about a food truck makes food taste better.
If you are the type who likes to create a food experience with a retro feel then consider going the food truck route.
I've seen some crazy prices here but I'm sure it can be done cheaper with a bit of creativity.
Initial investment: $9,500
Potential monthly income: $20,000 – $50,000
Coach
15. Life Coach
These days there seems to be a coach for everything but the one coach that everyone needs is a life coach.
This person does a whole life approach in order to help people to achieve their goals in many areas.
In my opinion, investing in a life coach can fast-forward your goals by leaps and bounds.
Yes, there have been complaints about life coaches that did nothing for their clients.
So, if you are interested in becoming a life coach please be careful about what kind of results you can help clients obtain.
Some people are lazy and they would not do the work so avoid them. Lol!!
Initial investment: $7,500
Potential monthly income: $50,000 – $100,000
16. Business Coach
Have you ever heard someone say that they feel stuck in their business?
Or maybe they say that they feel like their business has plateaued.
Well, this is where a business coach can step in to help them get clear on what they need to do to move forward.
If you are great at helping small businesses get clarity on what they need to do next to get the results they want.
Then you may want to consider becoming a business coach.
Generally speaking, it is preferred that you become certified or accredited before you start offering this kind of service.
Initial investment: $7,500
Potential monthly income: $50,000 – $100,000
---
Service Provider
17. Virtual Assistant (VA)
At the very basic level, a service provider to digital businesses could be a virtual assistant.
They offer general admin duties to their clients.
Helping them with things like inbox management, calendar booking, travel arrangements and much more.
It is by far the fastest way to get started in business online and ranks high as one of the most profitable small businesses around.
Simply because you are paid upfront and you can get started in a matter of days or weeks.
Initial investment: $1,500
Potential monthly income: $3,000 – $10,000
18. Tech VA
A Tech VA role is very similar to a normal virtual assistant. The key difference is the fact that they assist with more technical duties.
These include building out funnels, integrating platforms, developing reports and troubleshooting errors.
You would need to have a gift, as well as the ability to problem-solve for clients.
It can be a very rewarding role for the right person.
Initial investment: $1,500
Potential monthly income: $5,000 – $20,000
19. Social Media Manager/Strategist
It's possible that your wheelhouse is social media management or strategy.
You enjoy researching hashtags, creating captions and images and social media plans.
Developing Reels and IG Stories are in your zone of genius and these excite you every day.
If this is the case then I suggest you strongly consider specialising in this area.
In fact, there are clients looking for social media managers 365 days of the year (I wish I was joking). Lol!!
Initial investment: $1,500
Potential monthly income: $5,000 – $20,000
20. Launch Manager
Do you like to help clients launch their offers?
If yes, then there's a role for this kind of person in a small business that launches courses regularly.
The idea behind launch management is to manage the launch project.
It involves mapping out an 8-12 week plan and helping the client and their team manage the launch across 3-4 phases.
Launching can be stressful so having someone oversee the running of the entire launch is what clients are looking for in a launch manager.
Initial investment: $1,500
Potential monthly income: $5,000 – $20,000
21. Facebook Ads Manager
Running and managing Facebook Ads is not for the faint of heart or the inexperienced person.
You'll need to get training on Facebook Ads Management to pull this off.
Most importantly you'll need to stay up-to-date with all the changes that are happening with the platform.
Thankfully, the training in this area cost less than $10,000.
So, it means that you can start a business with 10k or less which gives you a return on investment with lots of time and freedom.
Initial investment: $3,500
Potential monthly income: $20,000 – $50,000
22. Copywriter
I have no idea where the online business world would be without copywriters.
Without good copy there would be very few sales and entrepreneurs would be out of business.
I didn't mention this previously but all course launches need Facebook Ads and copy.
So, how does someone become a copywriter?
Well, there are a ton of programs available where you can learn to improve your skill.
One such program is Copy School which is run by CopyHackers.
I must tell you that the only way to become great at copywriting is to practice daily.
What's surprising is that a good copywriter can charge $3,000 to $10,000 for a single sales page.
Initial investment: $3,500
Potential monthly income: $20,000 – $50,000
Summary
As you can see if you want to start a business with 10K the options are endless with all these great ideas.
You can develop almost any kind of business you want.
However, it is important to know what you want out of life and a business first.
From my own experience, I can tell you that getting into the wrong kind of business that doesn't excite you will leave you feeling de-motivated.
Spend some time finding your passion before saying yes to any kind of business.
Opening a business bank account is tremendously easy so it's the least of your worries.
If you need help becoming a virtual assistant (VA) or if you are already a VA but you want to get to $5K months then I may be able to help.
You can check out this free masterclass to learn more about my VA coaching program.
The life of a VA is not an easy one, it requires perseverance and motivation to be excited every day to help out clients.
Over to you, what kind of business do you want to start with $10K?
Announcements
Have you subscribed to the Success Unscrambled podcast yet?
If yes, then what about leaving a review? Leaving a positive review will help me to understand what's working as well as how I can produce more value for you as a listener.
There are so many times in life that I could have given up on my dream to become my own boss.
Nobody said it would be easy but it is so worth it in the end.
I started this blog in 2017 because I had a burden on my heart to reduce women's illiteracy globally.
Because this is a huge undertaking I have decided to help 1,000 women over the next 10 years to become wildly successful in their online business through simplified marketing strategies.
That way we can build a strong business network of women who can donate 1% of their profit and together we can help reduce women's illiteracy worldwide.
Would you like to be part of this movement? Shoot me an email using alvern (at) successunscrambled (dot) com.