Podcast: Play in new window | Download (Duration: 32:19 — 44.8MB) | Embed
Subscribe: Google Podcasts | Spotify | Amazon Music | Stitcher | Email | TuneIn | Deezer | RSS | More
Melli was browsing the self-improvement section on Amazon when she had a question, how can she sell courses on Amazon?
As a personal development coach who has seen it all, Melli wanted to help as many people as possible.
She knew very well that reading a self-improvement book or listening to an audiobook is only hitting the top of the iceberg.
Her potential students needed someone to walk them through that transformation while holding their hands.
However, she had no idea if it is even possible to sell courses on Amazon.
Like Melli, if you are creating an online course, Amazon has to come to mind as a place to sell it. You can buy cat food, a trampoline, and your wedding dress on Amazon. Why shouldn't you consider adding your online course to their myriad options?
Amazon sellers have access to millions of customers via the Amazon platform. Though you might be worried there is too much competition, by following best practices you can sell profitable products via the Amazon marketplace.
If you want to know how to sell your detailed course on Amazon you'll find it requires thinking outside the box.
Amazon is very user-friendly for both its customers and its sellers. However, they do not allow online courses to be sold as we might traditionally think of them.
In this post, you'll learn clever ways to get your course marketed on Amazon as well as how to sell other digital products on the platform as needed.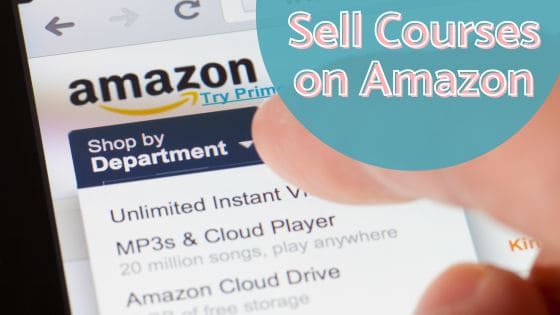 Can You Sell Your Online Course on Amazon?
Amazon does not allow third-party vendors (that's you!) to sell traditional online courses on Amazon. Selling digital products on Amazon is limited to Amazon's partners which are limited to other large corporations like Sony or Microsoft. You will see digital codes for the latest Switch games for sale on Amazon for example. 
You are considering selling your online course on Amazon due to its customer base. Amazon developed that customer base due to its sterling reputation. It has that reputation because it offers quality products. Your online course will be of the highest quality I'm sure but you know you can't trust others. 
Amazon can't risk having its site clogged, and reputation degraded, by low-quality course offerings and can't take the time to verify each course. They are running a huge global conglomerate. You understand. 
Pros and Cons of Selling Courses on Amazon
While you can't sell online courses on Amazon directly, which some might consider a con, there are ways to get your online course content on Amazon and reach students. Given that Amazon is still an option to deliver your digital product we should consider the pros and cons of using Amazon. 
Pros of Selling Your Online Course on Amazon:
Amazon is the world's largest online retailer. You want to reach your students and the odds are good they have an Amazon account. Utilising the Amazon website is a great opportunity to find your future successful students.
Amazon has great customer service. If you are having trouble with your account you can easily reach a representative for help. The responsiveness of Amazon makes them a great business partner. They also handle sensitive data well.
Marketing costs with Amazon are low. With their large user base, you already have potential students in your marketplace from the beginning. They are already searching Amazon for products they are interested in like your online course! Amazon also has built-in marketing tools like sponsored products and Lockscreen ads if you are so inclined.  
Cons of Selling Your Online Course on Amazon:
You can't sell online courses on Amazon. This might seem like an insurmountable con but there are options. You can convert your content into an ebook or upload a course video to Prime Direct Video. 
The competition on Amazon can seem like a huge con. While Amazon, as a retail giant, does have many sellers there is no reason you can't succeed. You can improve your ranking on Amazon by excelling in a few different areas. 
Offer great customer service. These are your students so this is something you should already be doing. You want your students to keep learning with you as you offer more courses. 
Fulfil orders in a timely manner. Later we will discuss in more detail ways of selling digital products on Amazon, one of which is by converting them to physical products. If you opt to sell your course on CDs or DVDs you can improve your place in Amazon search results by shipping your orders promptly. 
Have competitive prices. Amazon rewards sellers who offer good deals. As much as Amazon is known for being a reliable retailer they are also well known for providing great value. If you price your product in a way that aligns with their values they will reward you with a better spot in the search results than the competition.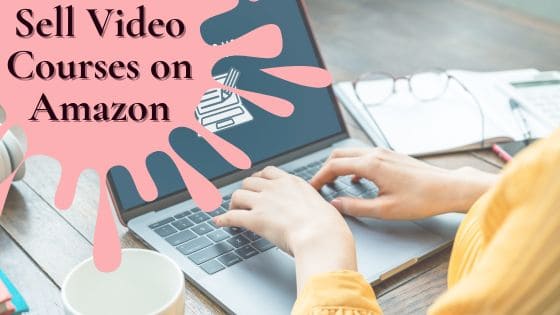 Ways You Can Sell Your Course on Amazon
1. Convert It to an Ebook For Amazon KDP
If your online course is largely in text format, or your course idea lends itself to the written word, you can convert it into an ebook to sell your course on Amazon. Amazon's Kindle Direct Publishing (KDP) is a powerful tool that allows you to sell your ideas on Amazon. Using this method allows students access to your great courses on Amazon's website.
With KDP you'll upload your text, set your pricing and royalty share, and design your cover. From there, students can purchase your online course as an ebook or as a physical book.
One of Amazon's greatest selling points in this regard is that you do not have to bulk order as a self-publisher. They'll print on demand.
As for how much you'll make from selling your course on Amazon as a book, you can earn a 70% royalty fee per purchase. This is only if you set your pricing between $2.99 and $9.99. Outside of that range, the royalty fee is only 35%.
You also have a ceiling of $200. Carefully consider the price point your potential students will be comfortable with when choosing between higher royalties or a higher purchase point.
A clever way to overcome the issue of low prices is to break your big course into 10-20 mini-courses and refer your reader to the next book as part of a series.
If you're wondering what people are searching for right now on Amazon KDP you can use this clever tool to help you spy out potential opportunities.
2. Convert Your Course Into a Video for Prime Video Direct
If your course is mostly in video format why reinvent the wheel? Sell your online course on Amazon as a video. Amazon's Prime Video Direct is waiting for you! This is also a great option if you already have video content on YouTube, your website, or in reels. 
As always, Amazon is concerned with quality control on this platform as they are with their others. Your video will be screened to ensure that it is HD quality.
If your course is just an idea make sure you invest in equipment that will meet this standard. If you have an existing course you are hoping to convert for Amazon review your videos to ensure they are up to snuff. 
Amazon will pay you based on the time customers spend streaming your content. If people purchase or rent your video via Amazon video direct you will also receive a piece of the action. 
3. Convert Your Course Into an Audiobook for Audible
Audible is another excellent option for selling your online course on Amazon. If you already have the text or created a book for KDP, it is a pretty simple option as well. 
Potential customers might also like the convenience of learning about your specific subject while doing tasks like driving or washing the dishes. If you offer good value Audible can be the right place for small business owners to become an Amazon success.
While you always have the option of recording your Audible book to retain a greater share of the sales, Amazon can also provide a narrator for you. This option is simple and removes the stress of worrying about recording equipment.
It also helps you avoid the dreaded question, "Does my voice really sound like that?!" With Amazon's narration services, you'll receive 20% of sales. 
Paying Amazon a production fee is also an option. Though it is an upfront cost you can keep a larger amount of revenue as you sell your course.
You receive 40% of the sales if you give Amazon exclusive distribution rights or 25% otherwise with the production fee model. 
4. Sell Courses on Flash Drives, DVDs, and CDs
Amazon might not allow third-party digital sales but they do allow third-party sales of physical items. You can consider selling your online course on Amazon via DVDs, CDs, or even a flash drive.
Setting up these product listings might seem like a lot of hard work but they can be a great way to get the best products to your students. After you set up your Amazon listing you will be an amazing selling machine.
This does require you to invest in the physical items. You will also need to add trips to the post office into your day. Another option is taking advantage of Fulfilled By Amazon (FBA) to reduce your involvement. 
With FBA you ship Amazon a box of products and they take care of shipping it out to your students as they purchase.
Amazon will take a larger share of your sales for the convenience but you avail yourself of their years of experience shipping packages on a regular basis. Starting your Amazon FBA journey can be a ticket to freedom from the post office.
It's important to note that Amazon will charge a significant warehousing fee if your physical product is not sold out after 12 months.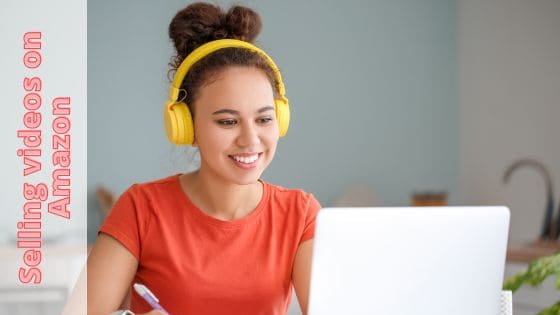 5. Zapier Integration
Another clever hack is via integration with Zapier from four popular course platforms; Kajabi, Clickfunnels, Teachable and Thinkific.
Of course, you will not have the ability to upload your entire video course to Amazon but through an integration with Zapier, it is possible to sell your course via Amazon.
After purchase, there'll be a trigger that will deliver logins to your course via your integration with Teachable or Thinkific.

All you need to make this happen is an account with Zapier and Thinkific or Kajabi or one of the others as well as a Seller Central account with Amazon.
Bear in mind that people can complain to Amazon customer service if they are not happy with your course content.
Is Selling Courses on Amazon Allowed?
As we've discussed Amazon is concerned with quality control. As you might have experienced during your time on the internet, not everyone is looking out for the good of others.
There is no Nigerian prince who needs to send you a bank transfer because their aunt has a terminal illness. 
Given that the internet has some shady characters you can see how Amazon might be concerned about low-quality courses flooding their site. You would never do such a thing of course. 
Since you are all about selling digital products on Amazon that are of high quality, you can take advantage of one of the options discussed previously to get your content out there on Amazon.
These different ways allow your online business to place new products on the various Amazon marketplace platforms.
How Do I Get Started Selling Digital Products on Amazon?
First things first, do you have an Amazon account? If you are one of the five people that don't, create an Amazon seller account. From there navigate to the site for the route you are choosing Audible, KDP, Amazon Seller Central, or Prime Direct Video. 
From there you'll need to sign a contract with Amazon to begin selling. You will also need to fill in tax information if it is applicable based on your country. Once the pesky paperwork is out of the way you can upload your content and begin selling your online course on Amazon. 
If you are opting to sell your online course on Amazon via a physical item you will also need to set up a system for your stock. Amazon rewards timely product shipment so make sure you have a system in place to manage this. 
Also, consider taking advantage of the Fulfilled By Amazon service and shipping a box of your products to Amazon. They will handle the distribution for you. 
Is There Any Advantage To Using Amazon Over Other Platforms?
The advantage of using Amazon is its large customer base. Everyone and their uncle is on Amazon. They also have a reputation for delivering quality products. 
The same reason you cannot sell your online course directly on Amazon is the same reason people might trust buying it as an ebook from the Amazon store.
Amazon also has a wide array of features and great customer support for sellers. One feature that stands out is the ability to add people to your account.
If you have a partner or a Virtual Assistant you can add them to your Amazon account, so they can help with uploading ebooks or shipping CDs, without dealing with them logging in and out of your account or having to share account details. They don't need to know about your midnight Amazon shopping binges. 
Where Can I Sell My Courses Besides Amazon?
Amazon is a great platform for selling your online course "in disguise" but if the workarounds do not appeal to you there are other options. They may not have the number of potential students that Amazon has but they are geared toward selling online courses.
Udemy is a popular online course marketplace where you can both create and sell your digital product as an online course. They have a large market share and their browsers are looking for online courses. These factors make Udemy an attractive option for online course creators. 
Another option is selling your course via your own website. You can create a course on Kajabi or iSpring Suite and then market it via your website and social media. 
Interested students can then click through to a landing page to purchase your online course. Though this relies on you to seek out potential students it is still a great option for online course creators.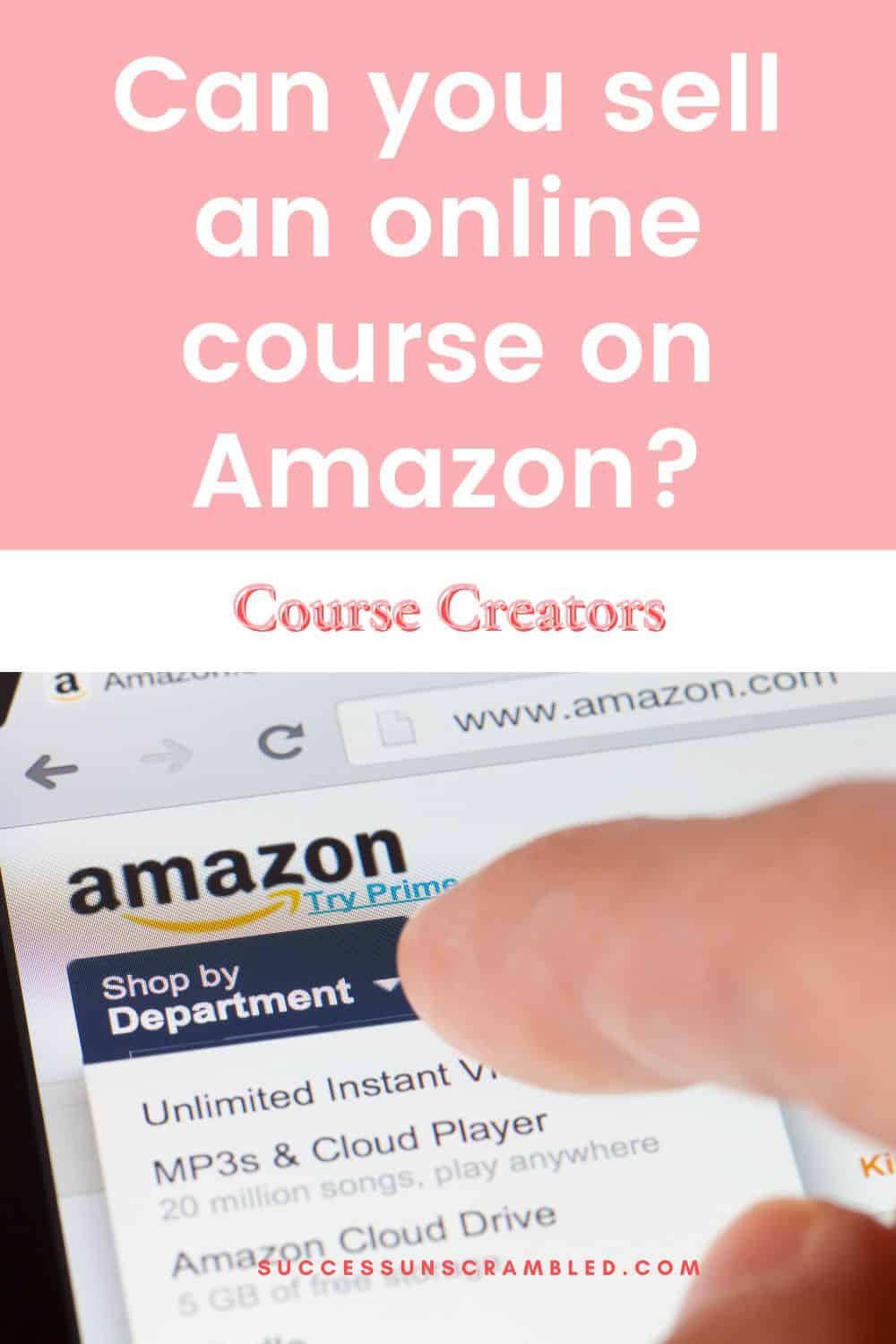 What Is the Best Way To Sell a Course?
The most important part of selling an online course is understanding your student. Why is a student going to take your online course and where would they be looking for it? 
Someone taking a course for personal versus professional development would be two different types of students who would be approaching the process differently. 
Once you understand your student you can select the platforms that will appeal to them. You can also use this understanding to create your marketing campaign. 
Whether you are selling your course on Amazon or another platform you will need to advertise to drive students to your product. The best course is a course with students.
Conclusion
You aren't creating online courses for nobody to take them. You want students. That is why you are considering Amazon, the largest online retailer on the globe. 
Amazon didn't become number one without some quality control measures which, unfortunately, means you can't sell your online course as an online course there. 
There are plenty of ways to work within Amazon's framework to get your content out there as we've discussed. 
You can create an ebook, upload a video to Amazon's Prime Direct Video, create an Audible book, or sell your digital product on a physical item like a CD. You have options and Amazon is a great platform to work with. 
If you are considering launching your online course via Amazon and want some guidance you can book a call with me to go through these options and select the one that works best for you and your students.