Jessica scanned through her notes and wondered, Lynda vs Udemy which one is better for her program.
You see, Jessica wants to launch a program for business professionals to help them develop an attractive personal brand.
She did some research but she remained undecided as to which one would be better for her course needs.
Let me know if this sounds familiar.
You believe that you are ready to develop your online course
You've had the idea for an online program for years but haven't pulled the trigger yet
There seem to be so many decisions around running an online course
Launching an online course is not as easy as it looks
If only there was a step-by-step guide outlining similarities and differences between Lynda and Udemy.
In this post, you'll get a comprehensive breakdown of the two programs as well as which one you should choose based on a side-by-side comparison.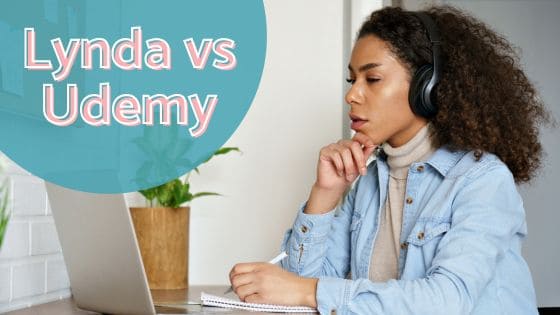 Lynda vs Udemy: An Overview
LinkedIn Learning Courses
Lynda, an online educational course portal, was founded in 1995 by Lynda Weinman. It got acquired by LinkedIn Corporation in 2015 to help professionals be better at what they do through skill development. With that vision, Lynda, now called LinkedIn Learning, offers over 20,500 courses that are mainly video lectures covering most major industries and streams like Business, Creativity and Technology.
Lynda offers a subscription to individuals and allows them to choose online classes as per their interests. You can easily browse a variety of courses and complete them step by step. You also have the option to practice what you have learned since some courses offer practice exercises and a curated online learning experience. Lynda (LinkedIn Learning) is currently offering a 30-day free trial
Udemy
Udemy, founded in 2015, is an online marketplace for self-paced and instructor-led courses.
The platform offers a whopping 204,000 courses from 75k+ instructors that teach a wide range of courses from video to programming to entrepreneurship, business management and everything in between.
There are two types of courses on Udemy, free and paid. Free courses are usually short lectures that anyone can take. Instructors for these free courses often give tips or advice for a particular skill or topic.
Paid courses usually offer more in-depth information than free ones. You would need to pay for each course, usually as a one-time payment, on Udemy as per your requirements and creative skills. Recently, Udemy launched their subscription model called Udemy for Business which is a first for them.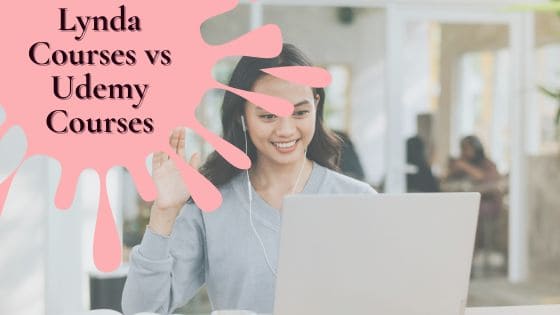 Lynda vs Udemy – Instructors
One of the key differentiators when it comes to both platforms is the quality of the instructors which affects the course quality.
Let's take a look at how each company qualifies and treats its instructors and their corresponding study material.
Udemy's Instructors
Udemy is an online course marketplace for people to learn a new skill, share and earn money by coaching others. Anyone can upload course material, create a profile and start earning money by promoting their content. 
Udemy offers courses for students and professionals in almost any topic imaginable. From programming to health, business to beauty, video editing software and YouTube analytics software. There are tons of online courses to choose from.
However,  ANYONE becomes an instructor hence the quality of courses varies as per the instructor's skillset. To become an instructor with Lynda, you not only have to be an expert in your field but also need to pass stringent testing conducted by them. They aim to choose instructors who can competently deliver a course in a highly appealing way and grab the attention of the student from the get-go.
Udemy works like a democratic organization. Anyone who likes to share knowledge can join Udemy as an Instructor. There are currently two options available for Udemy instructors to make money. The first is to become a premium instructor and the other way is to get invited to Udemy for Business. The latter is new and it's by invitation only.
Becoming a premium instructor is easy and simple. It takes a couple of days to get accepted and once you are accepted, you can create, publish and promote your course. Udemy provides a unique referral code to each instructor. If the purchase happens through your code then you ideally make 97% of the sale while if the sale happens through other codes you make around 37% of the sale.
If your courses have a great response then you can get invited to Udemy for Business.
Lynda's Instructors
At Lynda, it is a little more complicated to become an instructor. They have a strict screening process that requires time and effort. You need to fill out an application form. 
Once approved, Lynda will assign a content manager and producer that will help you create and publish content. Other ways to become an instructor on Lynda are by getting an invite from a content manager or by being referred by an existing LinkedIn instructor.
Both platforms support instructors in their own way and offer a wide variety of tools to support course creators. While Udemy offers the freedom to manage things their own way, Lynda follows a strict process.
With Udemy, you as a course creator would work on everything including starting from course content to publishing while Lynda assigns a content creator and producer that helps you publish the content. You might be called for an onsite recording as well.
Fees and Cost
Lynda offers a subscription-based learning model for all learning professionals. You get a 30-day trial and thereafter, you can choose to subscribe annually or monthly.  The monthly fee is quite small compared to the level of access they receive to align with your personal goals.
You can save almost 50% if you go for the annual subscription which gives you unlimited access. Their monthly subscription fee would be around $39.99 per month while if you decide to pay annually, it would cost you $19.99 per month.
As the largest online learning platform, it is one of the most popular tools for aspiring instructors. Lynda pays their instructors based on time watched. Instructors get paid a certain royalty every month based on the "watch time". This number would vary on how quickly your course is able to grab the attention of the target audience.
Udemy works like an online marketplace for self-paced and instructor-led courses. The individual courses could range anywhere from $20 to $200. Once you purchase a course, you get lifetime access to it and you can consume it at your own pace.
Once you sign in as a learning professional, you can pick your course(s) and pay accordingly. Udemy does offer discounts on courses for professionals so you could end up paying as little as $6-$10 for a full course.
There's also a team plan available if an organisation has a team of between 5 and 20 which costs only $360 per user per year.
At the Udemy marketplace, instructors get compensated for the number of courses purchased. This differs from Udemy Business where Udemy allocates 25% of monthly subscription revenue as an Instructor pool. 
There is no approval or upfront payment required to become an instructor with Udemy.  You earn based on how people purchase your course. As an instructor, Udemy offers a "Udemy deals program" to promote your course which is optional. Udemy pays instructors on a revenue share model.
Courses
Udemy allows instructors from around the world to teach students. An instructor can cover anything from Technical development, coding, software development, content creation and Vedic Math concepts to office productivity, power yoga, personal development and meditation.
There are many courses available on Udemy and just like I suggested Jessica, I would suggest you pursue some courses like video production and video creation if you are new to the online business. 
This would help you create your personalized course quickly. Udemy does provide access to Instructor Dashboards which are easy to manage and allow you to edit your course, check your audience etc.
Lynda allows instructors to create professional content to allow people to grow their skills in the industry. They majorly focus on software, creative and business skills. 
Anything that could allow a professional individual to grow in their respective industry is a great course on Lynda. Lynda has a streamlined process and if they approve you as a content creator, they will work together with you to help draft as well as publish the content.
It is important to note that both platforms restrict any unethical content like nudity, violence etc.
Looking at various courses on Lynda and Udemy below on the Business Intelligence domain, you can easily review the difference between both platforms.
Course Languages
Udemy allows Course creators to select most world languages based on their preferences and audiences. Language options allow you to create courses in various languages including German, English, Russian, Turkish, Japanese, French, Romanian, etc. 
You can teach in different languages but it would be difficult for your course to be searched since keyword research is based on the audiences' searches. In most cases, the language is localized to make it easy for the audience to understand the course.
Lynda also allows course creators to create content in various languages including English, Chinese, French, German, Japanese, Portuguese, and Spanish etc. This makes it easier for the instructors to deliver the course in a localised language based on target countries. 
Some features might not be available in all languages so you might have to compromise a bit in your delivery. But as mentioned before, the content manager and producers are there with you on this journey.
Course Validity
Another important factor for any course creator is the validity of your course. On Lynda, your courses are up for as long as LinkedIn decides to keep them. Once your course is published you have no control over it. You might have to work with a content manager to edit or improvise the course as and when required.
At Udemy, courses are available as long as you want and they don't have any right to the content. It basically acts as a marketplace for you to promote your course. In some cases, violation of Udemy policies could lead to your account getting banned but that is a rare occurrence.
Certificates and Accreditation
With both Udemy and Lynda, professionals or students both receive a certificate of completion. When you complete a course in Udemy, adding it to your resume might not enhance overall resume power. This might slightly vary when it comes to Lynda. 
Some employers might consider Lynda's certifications as meritorious based on their stringent selection criteria. This varies from person to person and organization to organization. In most cases, both certifications have little impact but the knowledge you gain can help in your professional journey.
Support Team
At Udemy you would have access to teaching centres that would help resolve all your queries starting from planning your content to publishing and eventually to payments. You can easily access the instructor community or find answers through a help centre.
Once you are approved as a content creator with Lynda, you will have an assigned Content Manager and Producer to help publish your content.
As mentioned earlier, for some course creators recording will be done on-site and for some, it will be an online recording. In both cases, your content manager would help you draft and plan content. He/She will assist and support you throughout the publishing process.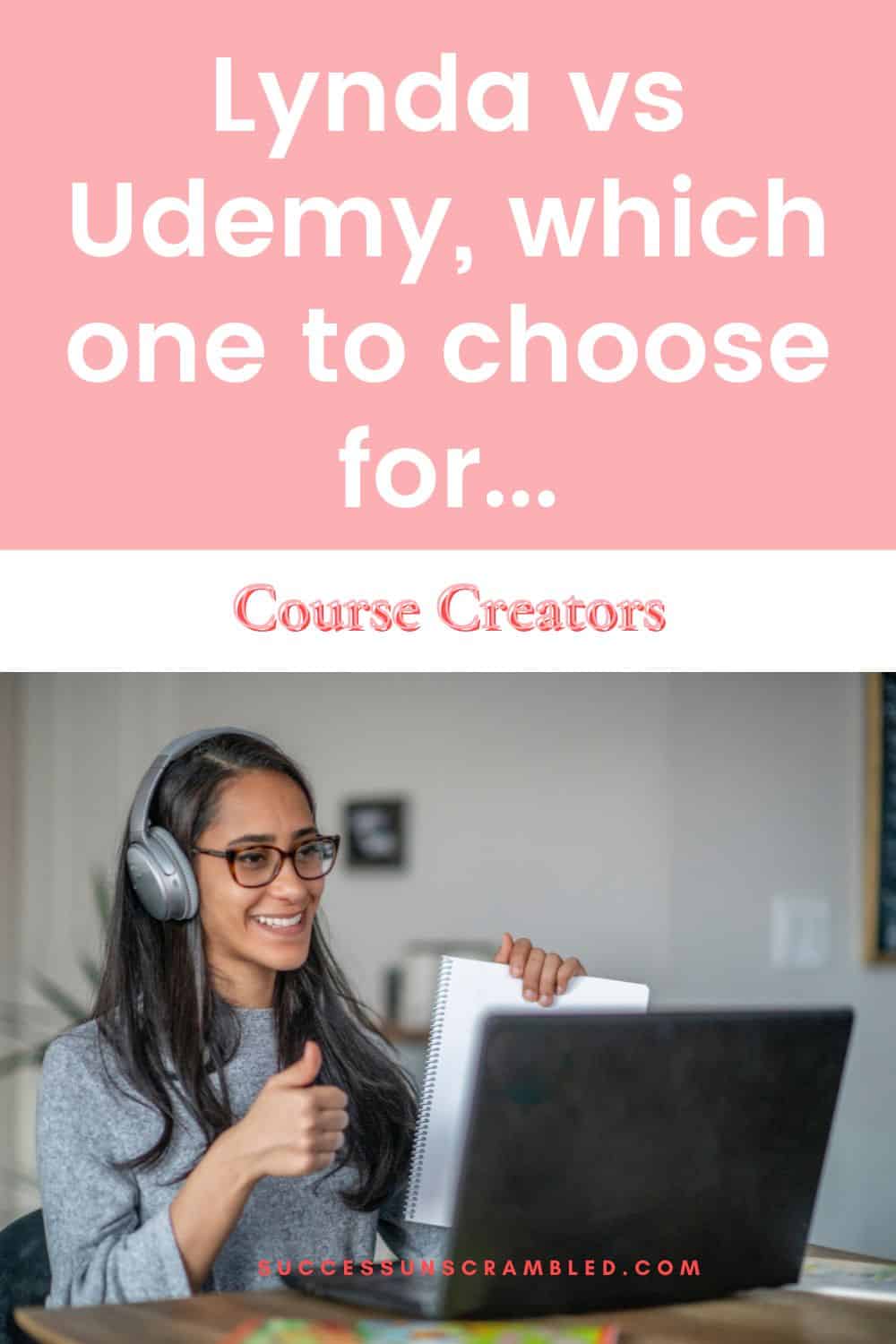 FAQs
Can I Put My Udemy Course on Other Platforms?
Yes, you can offer your course on other platforms since Udemy doesn't own the content but the price of the course shouldn't be lower than on Udemy.
What Is the Minimum Length of a Udemy Course?
To get approval from Udemy, you need at least 5 lectures along with 30 minutes of video content.
Can I Still Use Lynda Without LinkedIn?
You would need to create a Login on LinkedIn Learning and can create a course on Lynda without having it posted on LinkedIn. I would advise you to get access to LinkedIn by creating a LinkedIn profile so that you could promote the course with your professional connections.
Is LinkedIn Learning Included in LinkedIn Premium?
Unfortunately at the time of creating this resource, LinkedIn Learning is sold as a separate subscription from other LinkedIn premium offers (see screenshot below).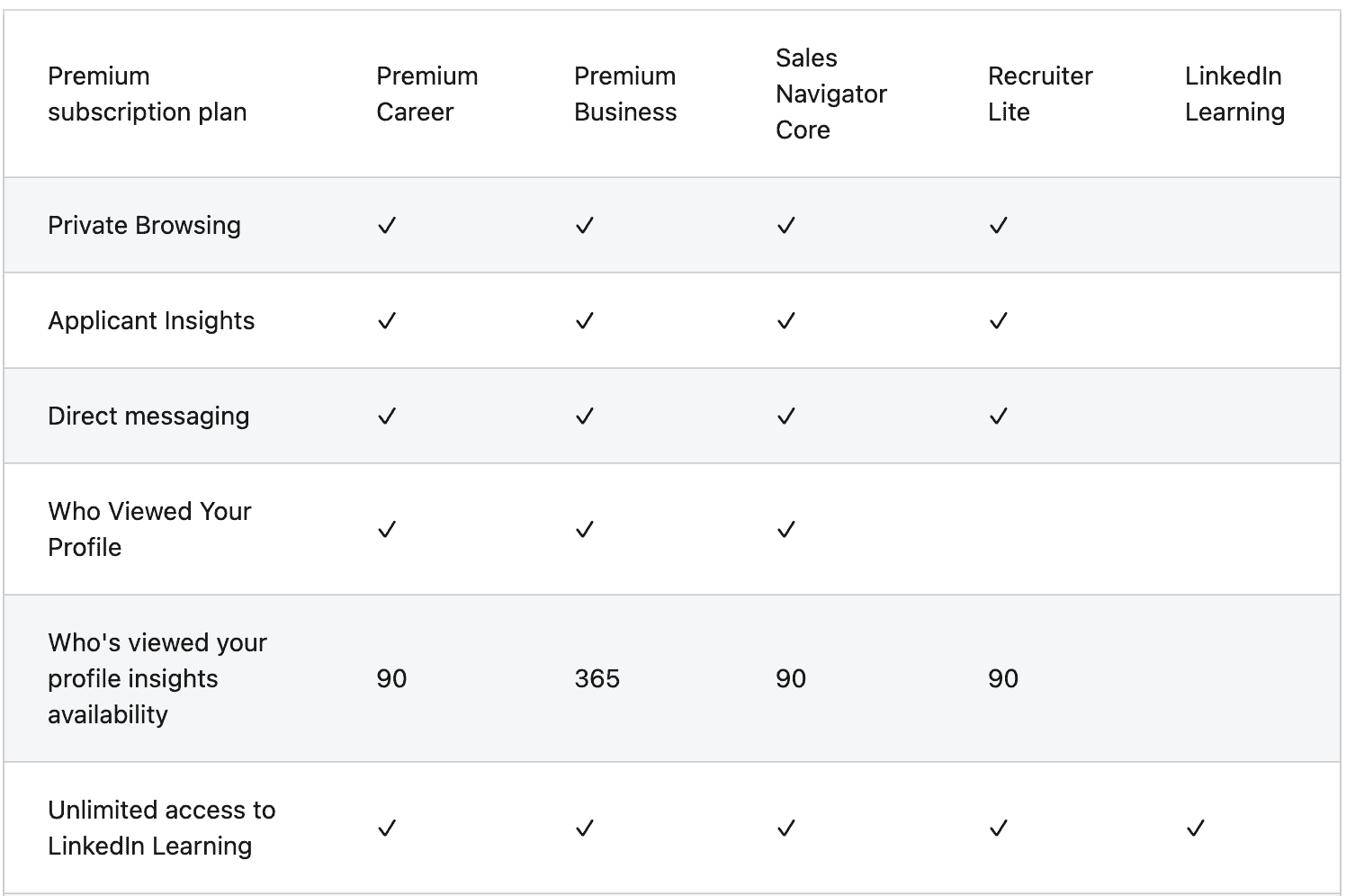 Summary
With students and professionals becoming more comfortable with online education, the demand in the online education industry is growing. When it comes to Lynda vs Udemy, it is important to be clear about your target audience and skills.
| Choose Lynda if you want to – | Choose Udemy if you want to – |
| --- | --- |
| Create professional courses which are career oriented | Create professional, creative or courses varied in scope and subject |
| If you plan to create an in-depth course just like an expert | Create professional, creative or courses varied in scope and subject |
| If you need help and support from a professional team | If you plan to create a basic course for broader audiences. |
| If you are okay to give complete control of your content to a team | Need the freedom to create |
| If you want to get paid on a royalty basis  | Want complete control over your work |
| If you want students to have a defined learning path | Want payment based on each sale |
After going through this Udemy vs Lynda comparison you may still have a few questions or you're apprehensive to pull the trigger.
Book a call with me, I might be able to help you find the best online learning platform for you. I also wrote a detailed article on Udemy versus Skillshare.