Podcast: Play in new window | Download | Embed
Subscribe: Apple Podcasts | Android | Email | Google Podcasts | Stitcher | TuneIn | Spotify | RSS | More
Fibroid Removal Surgery - My Experience
Today's podcast covers a fair bit of detail over a three-day period following a fibroid removal surgery.  I go into some detail as to what it felt like and what I experienced over a 24-48 hour period.  I decided to be vulerable and give you women personal details of what to expect once you decide to have a Myomectomy. Of course there are many options available in the treatment of fibroids but I decided to have surgery because of the size and quantity of my fibroids.  Despite being advised to strongly consider having a Hysterectomy I opted for the Myomectomy for personal reasons.  I hope you find this coverage very beneficial.  I will be covering another 3 days next week. Hello, ladies. It's just hours following my fibroid removal surgery. My voice is sounding a bit raspy (from the respirator), so forgive me for that. I decided to record the first 24 hours following the Myomectomy for my uterine fibroids. I had a fibroid tumour in the uterus and I went in just after four, and it took about four to five hours. Back up into my room then just before nine. I just wanted to let you guys know what it was like. Well, it was easy before I went in. The last thing I remember before my uterine fibroid removal was that burning sensation of a liquid running into my hand, which I guess was the anaesthetic, general anaesthetic. Then they were waking me up and calling me. My consultant, she was calling my name and asking me how I was feeling. Time flew so quickly. It felt like it happened in an instant. Anyway, once I said I was fine, they wheeled me up into my room. I was more or less conscious of all the way as I was going into the lift and then coming out onto the floor. In regards to pain, it doesn't actually feel painful at all right now. They keep asking me if I want pain tablets or painkillers. I feel fine. I'm not free of pain. It just feels like someone just pressing down on my tummy. To me, that is not pain. Anyway, when I got here, I just wanted to eat, not because I was hungry, but because I was looking forward to eating food. They said they would try me on water first. Since I was normal, I took a few sips of water. Then I just wanted to continue that. They said if you feel nauseous, let them know. When I said I didn't feel nauseous, they said fine. They ordered some toast and apple juice from the kitchen. Within probably less than a minute of ordering the toast and apple juice, I started to feel nauseous. Oh, I just didn't know what to do. I was uncomfortable. My heel was in pain because of keeping my foot in one place. I wasn't able to turn left or right. Lying on my back was, room temperature was fine. I said, "Okay. Open the window because I just, I feel so nauseous." I felt like I needed to puke. When one walked in the door with the toast and apple juice, I was just like, "Oh, no thank you." Then the machine that they were using to monitor my life signals kept on beeping. I noticed up in the corner of my eye I was losing, or dropping, blood pressure every time it kept on beeping. The nurses kept on going to and fro and didn't know what to do. At least they played like they didn't know what to do. Finally, they put me in straps because my blood pressure dropped somewhere around the low hundreds, 111/58. I was just feeling uncomfortable. I couldn't keep quiet. I kept on shaking my leg because I just wanted to do something to keep me comfortable with myself.
Day 2 After Fibroid Removal Surgery
Hello, ladies. Alvern here. It's day two after my fibroid removal surgery, myomectomy surgery (a fibroids treatment). I wanted to just give you guys a bit of feedback as to how things are going so far. Yesterday when I spoke to you, I forgot to mention that I haven't eaten anything. Maybe I did. I can't remember. That's the reason why I'm recording all of this, so I can go back over and see what I did or didn't remember to say. Today was the first time I ate. It was 12 hours post-surgery (abdominal Myomectomy) when I ate my first morsel. It was very painful. Just in case you're wondering what it's going to be like if you're booked in for this kind of surgery, my experience so far is that eating is a very painful process. The nurses are encouraging me to eat and I'm asking them for painkillers so I can eat. They said, "Take your time. You know you have all the time in the world. Just take your time and eat." Can you imagine trying to eat a slice of bread over a three hour period? That's just impossible. I can't eat that slowly. Together with that, I have no appetite. I don't actually feel hungry at all. I know when it's time to eat when they bring the food for me. I don't feel hungry at all, whatsoever. Today, I also slept less, so I wasn't as drowsy as I was yesterday, which is interesting. Probably slept a little bit in the morning, well doze and slept. I didn't sleep very well last night either, probably because it's not my bed, a different room, the fact I couldn't turn on my side. I'm dying to turn on my side and sleep because I don't ever sleep on my back at home. It's just a very interesting experience for me to get used to it, if at all, to know when I'm going home. I still have the catheter in. I have a catheter in my body. I think I didn't mention this yesterday, for collecting my urine. I don't actually have to get up and go to the toilet. There's a catheter inserted in me. Then there is another drainage device attached to me to drain out the excess blood, or something to that affect. I'll stick a picture of it in the show notes so you can see what I'm talking about.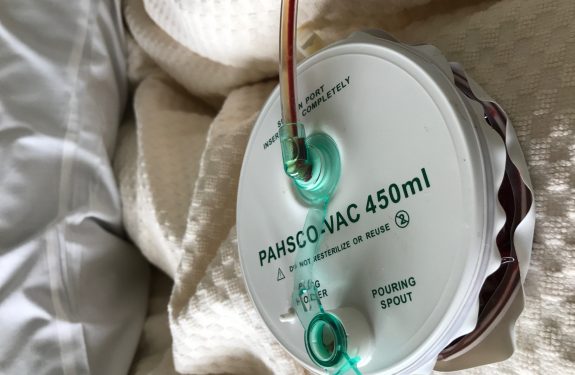 What else happened today? I was given an injection for thinning my blood, which in fact, everyone in the hospital, who stays a while gets, you have to show the ID behind it. Apart from wearing the compression socks 24/7, I know have to get injections for thinning my blood. One strange thing happened today, which is my doctor ordered a CT scan. I'm not too sure why. I guess I'll have to ask her in the morning. That was a very interesting experience because I haven't walked since the fibroid removal surgery. I had to actually get out of my bed and into a wheelchair. Then out of my wheelchair, the wheelchair, into the CT scanning machine. Then the reverse when I get back off the machine and back into my bed then. Oh, that was very traumatic for my body. I know it has to be done at some point. I'm going to be having to walk as normal. Better sooner than later, but it was a very traumatic experience anyway, nonetheless.
Day 3 After Uterine Fibroid Surgery
Hello, ladies. Alvern here. It's day three. Day three since I've had the fibroid removal surgery. I just wanted to give you guys a heads up on an actual experience of mine following yesterday's podcast on day two on my fibroid removal surgery. I just can't remember the name of it. In terms of the myomectomy, so what happened today? Today, bright and early, the catheter, which was helping me with urine, passing urine while I was in bed, plus the drain. It's a tubing that drains the excess blood from the wound. Those devices were removed. I'll put a picture of that device again today, just in case you missed yesterday's, or a link to it from yesterday's podcast.
Solpadeine.
I'm not really 100% sure what it is. I'll find out anyway because they'll be sending me home with what the names of it would be. As well as that, I had what they call a bladder scan. A bladder scan is one that they do to check to make sure that every time you pass urine, your bladder is emptied, in the process of making sure your bladder is functioning properly basically. My only improvement when it comes to eating, I still don't have an appetite. I still don't eat a lot of food. I don't know. There's something about food. I just have no desire for food. I just, I think I prefer salads. Now that I think of it, I sort of more or less ate salads that were healthy looking, I ate them. The other stuff wasn't, I just not interested into cooked food yet, I guess. Still no appetite. When the food comes, it's just a chore for me rather than excitement. I coughed today again. Yeah, believe it or not. I don't know how come I'm coughing that much but I coughed quite a few times today. That was interesting altogether. Then, last but not least, I sat out in a chair today. Instead of staying in bed, I literally got out of bed and sat out in a chair. At first, it was oh, uncomfortable. Then, you know, as the hours went by, I got used to that. I actually ate my lunch while I was sitting in a chair today. I'm not able to move around the room that I'm in. I'm still in the hospital, but I was able to move around the room okay. It's not a very normal ... What do you call, what I'm looking for? ... normal pace. Slowly but surely, since I had nothing else to do, I might as well take my time and get used to moving around the room because when I get home, that's what I'm going to have to do. I'm going to have to be able to move around on my own, or at least with aid. I do have a lot of stairs at home. I can't wait to see how that's going to pan out. Yep. That is more or less it for today. Drank lots of fluids. Got more blood taken. Trying to think if there's anything else I forgot. Yeah. I did get a cardiologist visit. We'll see. We'll see with how it is progressed and how tomorrow pans out. The stronger meds, painkiller meds, or pain meds, actually worked the dream. If like me, you're having difficulty with just basic paracetamol, still having discomfort and pain, take some stronger meds and see how it works. Okay, ladies. That's all for today. Thanks so much for listening. Until then, enjoy the rest of your day. Enjoy the rest of your week. See you next time. Bye.