To develop a new skill or level up your talent, you need to learn from the best. Before the internet, resources used to be limited and, not to mention, only available to those who could afford to hire the best mentors.
These days, countless options for eLearning sites are available to us. The most famous among these options is MasterClass, and it's mostly because it has the biggest names in every industry as instructors.
But is MasterClass really worth the hype? Is it the magic pill that can make you level up? Or are there MasterClass alternatives that will fit your needs better?
If you're a course creator like me who wants to communicate your lessons to your students in the best way possible, or if you're a learner who wants to find the most suitable platform for the skill you want to master, I compiled the best Masterclass alternatives for you.
I have personally used most of these platforms, so I guarantee that this list is carefully curated based on their range, key features and reasonable rates.
But first, let's talk about why you should consider getting a MasterClass alternative.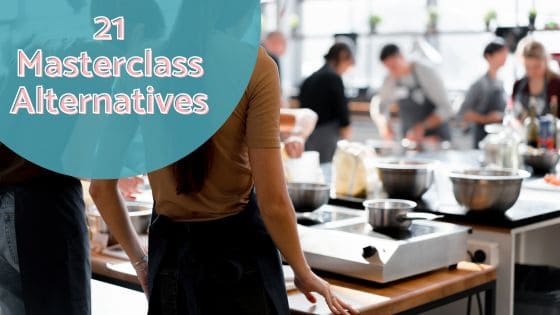 MasterClass Is Best For:
Learners who want to get direct lessons from famous personalities who are the best in their field
Followers or fans who want to learn from their idols and get to know them better
People who prefer a storytelling approach and unconventional style of teaching
MasterClass Is Least Recommended For:
Those who want a wider range of courses
Those who are looking for accredited certifications from notable institutions
People who prefer a more hands-on and academic style of teaching
Creatives who want to be part of a community where they can engage with like-minded people sharing valuable knowledge and experience
Top Alternatives for MasterClass
Let's get to it! Here are my 21 Top Picks for MasterClass Alternatives:
1 – SkillShare – Best for Creative Minds
SkillShare is one of the greatest MasterClass competitors because it aims to make learning easier for anyone anywhere, at any age, and at an affordable price. They have a subscription-based service that covers 35,000 classes for personal and professional growth.
While it offers courses in technology and business, SkillShare is well-known for its top-notch creative courses: art, graphic design, photography and lifestyle. The instructors are mostly creative experts and professionals. So if you're a course creator who wants to turn people into makers, producers, authors and designers, this platform is for you.
Take a few minutes to read my comparison between Skillshare vs Udemy.
SkillShare Pros:
Their free trial lets you explore their course catalogue.
Their platform is perfect for both instructors and learners in the creative field.
They have an active community to help learners build connections while acquiring a new skill.
SkillShare Cons:
They offer subscriptions only, so you can't purchase a course individually.
They do not have certificates or accreditation.
The quality of classes may be inconsistent compared to MasterClass, as SkillShare doesn't audit the courses.
2 – Coursera – Best Academic Choice
Coursera is one of the most widely used educational platforms that has partnered with over 200 notable institutions like IBM, Google, Duke and Stanford.
It immediately shows job titles on its homepage, which establishes its main focus: career development. There are various categories including, IT support, digital marketing, bookkeeping, you name it.

I'm excited by the fact that it covers web design, social media and many others.
Consider spending a few minutes reading my comparison between Udemy vs Coursera.
Coursera Pros:
Their instructors are award-winning leaders in academia.
Their degree programs are more affordable compared to campus-based degrees.
Certificates and accreditation can be earned from the world's top organizations and prestigious universities.
They have over 2,000 free courses available.
Their downloadable course materials allow you to study offline.
Coursera Cons:
If you want to be a Coursera instructor, your institution needs to be affiliated with them, as course creation is only available for instructors in their partner universities.
It focuses more on professional training, so it may not be the right fit for people who want to work on personal development.
3 – Lynda – Best for Business and Tech Learners
Lynda a.k.a. LinkedIn Learning offers over 16,000 courses to subscribers who want to advance their careers. Lynda is a gold mine of courses meant to enhance technical skills and business tactics. Whether it's an IT-related course or business strategy, Lynda's got you.
Lynda Pros:
Lynda's massive content library can serve different learner types.
It has a one-month free trial so you can enjoy the platform before shelling out any money.
If you're a LinkedIn user, you can earn a LinkedIn Learning certificate and display it as a badge of honour on your LinkedIn profile to attract more companies to hire you.
If you're a specialist in either tech or business and you want to be a LinkedIn Learning instructor, they have a hassle-free application process. Just a video of you teaching your lesson can help their team determine if you're a good fit for them.
Lynda Cons:
It is only available for subscription. Individual courses cannot be bought separately.
Its videos' autoplay feature can get annoying if you just want to read and browse.
Their landing page might look a little too plain if you're more into visual and vibrant-looking platforms
Their LinkedIn Learning certificates are not accredited.
4 – Pinlearn – Best for Entrepreneurs
If you want to label an eLearning website as your own, Pinlearn is your white-label software. By paying a one-time fee, start-up entrepreneurs can create their own eLearning marketplace and provide online corporate training for their teams.
Pinlearn Pros:
It allows edupreneurs to take control of the platform and label it as their own. It is self-hosted with full source code, allowing you to create your own personalized eLearning platform.
If you're a tutor, you can sell your courses at your own pace as they also have a commission-based set-up.
Pinlearn Cons:
The one-time fee of $699 seems a bit pricey if you're on a budget.
Creating your own platform may take more time and effort at first, as you'll need to do a lot of testing.
Additional fees apply if you want to integrate a new feature into their existing software.
5 – TrainerCentral – The Coach's Choice
If you're a business coach, life coach, health guru or dance instructor, you'll be able to monetize your passion and turn it into a rewarding business through TrainerCentral. Within minutes, you can make an impact in your field of expertise.
TrainerCentral Pros:
They offer a free plan to instructors who want to upload up to 3 courses, and the best part is, the courses will be accessible to all learners using the platform.
The platform is user-friendly and perfect for non-techy coaches.
The customers are usually small business owners and freelancers which makes it a great place for beginner course creators.
TrainerCentral Cons:
TrainerCentral is a small-scale platform, so it may not be a good fit for learners who need industry leader-level of learning.
6 – Kartra – Best for Digital Marketers
Kartra prides itself to be an all-in-one platform, helping business owners create stunning webpages, effective email marketing workflow and more.
They have a feature called Kartra Memberships wherein you can build a membership portal to deliver content, courses or training material to your clients.
Katra Pros:
If you're in the digital marketing space, you'll definitely enjoy the platform as it's specially designed for marketing and lead generation.
If you want to improve marketing your courses, you can utilize their easy-to-launch marketing campaigns complete with analytics.
Kartra Cons:
Its main focus is marketing, and not skills development, so course creation is not as in-depth and engaging as MasterClass.
The membership feature serves more as a recurring income scheme for business owners and is not specifically designed for instructors and coaches.
It's not an eLearning marketplace, so there are no community perks.
7 – Thinkific – Easy "No Coding Required" Courses
No coding skills? No problem! Thinkific helps course creators upload powerful courses with no coding needed. They have unlimited video hosting, plus other content types that you can share with your learners: presentations, quizzes, surveys and worksheets.
Thinkific Pros:
They have a simple and intuitive interface for students.
They offer 0% transaction fees, which means more income for course makers.
It allows course creators to easily integrate their payment systems, websites and other third-party tools.
Thinkific Cons:
Their page templates need to be updated.
Their support team can only be contacted via email. They don't have a live chat option.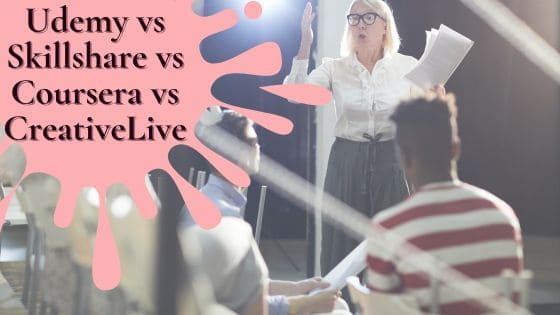 8 – Payhip – Best for E-Commerce Builders
Since 2011, Payhip has been one of the favourite platforms of small creators selling digital products.
It's the ultimate choice of creators who want to build an e-commerce website with the minimal investment needed. You can enjoy their no-frills process of selling digital products, physical products, courses or coaching services.
Payhip Pros:
You can create a fully customizable website for your course easily from scratch through their drag-and-drop builder.
Payhip has marketing tools if you want to set up coupons, discounts, affiliates and mailing lists.
Their free plan includes all features, unlimited products and unlimited revenue.
Payhip Cons:
They have a 5% fee for every transaction. If you want to pay less in transaction fees, you have to upgrade to their paid plans.
9 – Udemy – Best Overall
Udemy is my top pick for the best MasterClass alternative because of its wide range of courses, free marketing and course pricing options.
They currently have over 200,000 video lessons that cover pretty much every industry. Their top categories are tech, business, design, marketing, personal development and music.
Students have the option to pay a subscription fee or buy a course separately on Udemy, and creators don't have to pay a huge amount to set up their course because they can conveniently do it on the platform.
Plus, the platform itself promotes courses via ads and affiliates, which is perfect for creators who don't know how to market their content.
Udemy Pros:
If you're a learner who wants to purchase a single course without committing to a monthly subscription, you can buy a Udemy course individually, starting at $12.
Anyone can teach on Udemy. If you create a free course, you won't need to get it approved.
It enables course creators to access their active community of more than 40 million students.
Udemy promotes courses via ads and affiliates, which makes it easier for course creators to be discovered by their target audience inside and outside the platform.
Udemy Cons:
Udemy charges creators a 50% commission on all sales, and an additional 25% on sales from ads and affiliates. You pay a 3% transaction fee only if your student buys the course through your coupon.
10 – Kajabi – All-in-One Course Creation
Just like Kartra and Payhip, Kajabi is an all-in-one platform, but the best thing about Kajabi is that it focuses on course creation, coaching, memberships and communities.
It's a website builder and online course platform with basic marketing and shopping cart features.
Kajabi Pros:
It charges a 0% transaction fee, and its annual fee ranges from $149 – $399 only.
You can run your business and your courses by looking at a single dashboard.
If you launch your online products and classes through Kajabi, you get to keep 100% of your profits.
Kajabi Cons:
It lacks more advanced quizzing tools.
It doesn't have live classes and interactive video features.
11 – Academy of Mine – Best for SMEs
If you own a small to mid-size business wherein you need to do a lot of training, certifications and professional development, Academy of Mine is perfect for you, as those areas are its main focus. 
AOM is the trusted learning management system (LMS) provider of over 600 organizations around the world, including the American Public University System, Hanover Research, Model Teaching and Keck School of Medicine of USC.
They have served industries in healthcare, tax, sales, legal, human resources, safety training and finance.
Academy of Mine Pros:
It provides great customer support for its clients.
Its customizable feature makes it possible for companies to not only upload online classes but includes in-person courses and hybrid courses in their programs.
The software continuously gets updated to improve in meeting the needs of each client.
Academy of Mine Cons:
The platform is highly secure. That may be a good thing in general, but because of this, AOM makes it a challenge for business owners to install plug-ins and integrate other tools.
12 – Podia – The Most Flexible Online Course Platform
Podia is the jack of all trades when it comes to online course platforms because of its flexibility. It offers a friendly yet professional user interface and an impressive user experience. It's a solid tool at an affordable price.
Podia is widely used in building an online store for online courses, webinars, digital products and coaching materials. It also allows course creators to do free email marketing and community engagement.
Podia Pros:
Its refined user interface makes it great for people who don't prefer fancier platforms and want to keep it simple yet pro.
It offers instant payouts to its users.
You can enjoy its email marketing and community engagement features with the free plan.
Podia Cons:
It does not provide an in-depth view of data analytics.
Its free plan has limited online course features and no membership feature.
Its free plan charges an 8% fee for every transaction.
13 – Teachery – Best for Beginner Creators
If you're a beginner course creator and you want to concentrate more on selling your content, Teachery can take care of the technical aspect for you. Simplicity is what they aim for, allowing you to quickly set up your course page, landing page and login page.
Teachery Pros:
This online learning platform is suitable for beginners who are on a budget and whose courses don't require a lot of setting up.
If you're not into flashy email designs, you can effortlessly create text-only emails and automate them for every signup.
Teachery Cons:
They have limited course layouts available.
If you're looking for more customizable features, you may need a platform with more advanced tools.
Though they have a 14-day trial, they do not offer a forever-free plan like Podia and Payhip.
14 – Ruzuku – Best Teacher-to-Student Engagement
If you're a creator who likes to stay engaged and be on top of things when it comes to the growth of your students, you will love Ruzuku. Turning ideas into successful courses is such a breeze for teachers.
They also provide a no-fuss clean interface for course participants. It also has an achievement tracking feature allowing students to monitor their progress in every course.
Ruzuku Pros:
The platform is friendly to creators who aren't tech-savvy.
Uploading files for your classes won't be a hassle as it accepts almost all file formats.
Teachers will get email notifications about all activities happening in the course and all questions posted by students. 
Ruzuku Cons:
If you want to set up a mailing list, you'll have to integrate a separate tool called Mailchimp.
The lowest-paid plan starts at $99/per month
The free plan can only accommodate a maximum of 5 students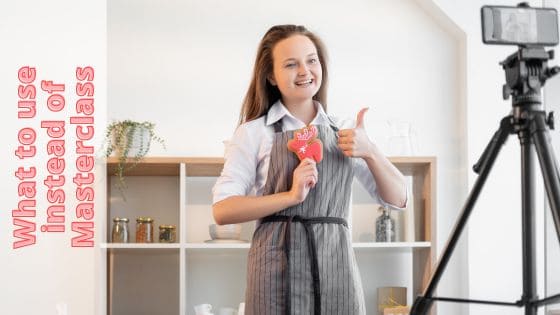 15 – CreativeLive – For Sophisticated Creatives
While SkillShare is our top choice for creative courses, CreativeLive comes close. It does not offer a free trial and its variety of courses is not as wide as what SkillShare offers.
But since CreativeLive focuses on creative work and entrepreneurship, you will find it to be a classy and organized online platform that doesn't overwhelm you with too many options.
CreativeLive Pros:
Their courses have high production quality just like MasterClass.
It's the best choice for students who want to learn how to juggle the creative side and business side of their ventures.
Creative courses are their strong suit, so many of their instructors are industry leaders and established creators.
CreativeLive Cons:
They don't offer a free trial.
They don't offer accreditation.
Students cannot ask questions to the teachers directly.
16 – WizIQ – Best for Real-time Learning
WizIQ is an excellent choice for teachers who want to set up virtual classrooms to deliver seamless online learning in real-time. Its HD video paired with an interactive whiteboard can elevate every class, with students feeling like they're in an actual classroom.
The platform also includes solutions for different online course styles like corporate training, tutoring, test preparation and more.
WizIQ Pros:
Its real-time teaching style promotes a more interactive environment for instructors and students. 
Its excellent video quality in recording classes can make a big difference in a student's viewing experience, thus, improving the learning process.
It provides various pricing options that fit more training institutions and private tutors.
WizIQ Cons:
Integration of third-party tools takes a lot of time to process.
They don't have a knowledge base and a live chat feature for users, so getting info and requesting support can be difficult.
17 – Systeme.io – Best Free Premium Features
Systeme.io is a marketing platform where users can create different courses, landing pages, email campaigns, sales funnels, and affiliate programs.
Creators, freelancers and small businesses can make a membership site fast while marketing their courses through emails and funnels. Its webinar function is perfect for consultants who want to boost their online presence.
Systeme.io Pros:
They offer a generous free access plan where you can enjoy all their features with the exception of webinars and a one-on-one kickstart coaching session.
Their support team is accessible and accommodating.
Systeme.io Cons:
Their free plan has a limited quantity per feature, so if you want unlimited use of their premium features, you'll have to go for the paid plans.
The free plan comes with Systeme-branded landing pages
18 – edX – Best for Job Seekers
People who want to level up their professional careers while keeping up with their busy schedules can take up edX's courses at their own pace.
Founded by MIT and Harvard faculty in 2012, edX started partnering up with other reputable universities and organizations. This open-source platform now offers the finest courses in engineering, statistics, computer science, humanities, data science and more.
If you want to be an edX instructor, they constantly have openings in prominent digital fields where you can turn your passion for education into your desired profession.
edX Pros:
edX certificates are acknowledged by employers, so students and job applicants can add them to their portfolios.
Students can rest assured they're in for serious learning as edX collaborates with top-tier organizations, universities, and companies including Harvard, Berkeley, and Microsoft.
edX Cons:
Their free courses allow students to gain new knowledge and learn new skills. However, verified certificates won't be given, and are only available for paid courses.
edX courses are more like university subjects that help people attract future employers, but they don't have many traditional and basic subjects available.
19 – Graphy – Best for Multimedia Instructors and Learners
Graphy is a marketing platform that's designed for multimedia creators and learners. It aims to give people a better experience in making rich multimedia courses without tech headaches.
If you're a multimedia creator, you can build your own knowledge business empire by hosting learning platforms on a custom domain address.
Graphy Pros:
Its multi-layer security includes watermarking, IP protection and encrypted video streaming so that each creator's content is protected from unauthorized access and piracy.
Creators have the option to set up an instructor-led or self-paced course.
Teachers can choose whether to make their content available forever or accessible only during a specific time period.
Teachers can directly answer students' questions via live sessions or discussion forums.
It has a certificate feature that allows teachers to award certificates to students who complete the course.
Graphy Cons:
It's quite pricey to get started with Graphy. They don't have different plans that can fit different budgets. Their subscription model only has one payment option which is an onboarding fee of $999. Plus they charge 10% each time you get a sale.
Graphy lacks the customization features and third-party tool integrations that other marketing platforms have.
20 – Yondo – Best for On-Demand Video Creators
If you're looking for a platform where you can launch an online service marketplace, Yondo is your best bet. Its unique selling point is that it's more focused on live online sessions and on-demand videos.
Yondo gives you opportunities to strategize and strengthen your brand through video courses and valuable content for your audience.
The Pros of Yondo:
Its 14-day free trial does not require your credit card info, and you're free to cancel anytime.
They don't have transaction fees, so businesses get to keep 100% of their revenue.
If you already have your own website, integrating Yondo's platform won't be an issue.
Its webinar feature is available 24/7.
Yondo Cons:
You might find the platform subscription quite expensive if you're a budding entrepreneur. Their price range can go between $97 to $297 per month for multiple team members.
21 – Digital Course Hive – Best for Upselling Courses
Digital Course Hive is an all-in-one business software that can make course creation more profitable through a feature that helps creators set up bump offers, one-step checkouts, subscriptions and one-click upsells.
If you want to sell more of the courses you poured your time and effort into creating, Digital Course Hive allows you to do that plus more.
They also have these features available on the platform: e-commerce, email automation, marketing, appointment setting, memberships and funnels.
Digital Course Hive Pros:
Its flexibility makes it easy for business owners to build sales funnels and upsell their courses effortlessly.
If you're someone who's particular with data tracking, the platform has easy-to-view analytics where you can see which of your sales funnels have larger conversions.
It has 12 payment processors available for integration.
Digital Course Hive Cons:
It does not have a video hosting feature.
Its automation feature has a limited email allowance.
Here's a quick summary of the MasterClass alternatives and their key features:
Best Overall: Udemy
The Best for Job Seekers: edX
Best for Creative Minds: SkillShare
The Best Academic Choice: Coursera
Best for Beginner Creators: Teachery
Most Flexible Platform: Podia
Best Teacher-to-Student Engagement: Ruzuku
The Best for Real-Time Learning: WizIQ
Best for Multimedia Learners: Graphy
The Best for Business and Tech Learners: Lynda
Best for Entrepreneurs: Pinlearn
The Best for E-Commerce Builders: Payhip
Best Free Premium Features – Systeme.io
Easy "No Code" Course Creation: Thinkific
Best for Sophisticated Creatives – CreativeLive
Best for Upselling Courses – Digital Course Hive
All-in-One Course Creation – Kajabi
Best for Digital Marketers – Kartra
The Coach's Choice – TrainerCentral
Best for SMEs – Academy of Mine
Best for On-Demand Video Creators – Yondo
If you want to compare each platform's pros and cons, just access the podcast show notes so you can carefully think about which MasterClass Alternative is best for you!
What to Look for in a MasterClass Alternative
MasterClass competitors have so many common features, and it can be hard to choose when all their functions look promising.
You don't have to worry. Whether you're a course creator, entrepreneur, instructor or learner, here's everything you need to look for in a MasterClass alternative:
For Course Creators, Instructors and Entrepreneurs:
Customizable Features
If you're not a fan of fancy features and you want to keep things simple to launch your course fast, you may want to go for a platform that's more straightforward.
If you're particular about integrations and other custom functions, you'll need a flexible and unrestricted platform.
Low Fees
Platform commissions, subscription fees and transaction fees are some of the things to consider when choosing an online course platform. If you're a freelancer who cannot sustain a monthly fee, you can opt for free plans that have minimal transaction fees.
If you're an instructor, you may want to review your platform's commissions so you'll know what to expect when you start conducting your classes.
Marketing Features
If you want to be in control of your marketing, you can choose a platform with complete marketing tools and upselling options.
If you're someone who can't be bothered by the business side of things, it's best to choose a platform like Udemy that promotes courses via advertisements and affiliate programs.
Customer Support
Your time is precious, so your online course business needs to be running smoothly at all times. Choose a platform with a terrific support team that's responsive and accessible.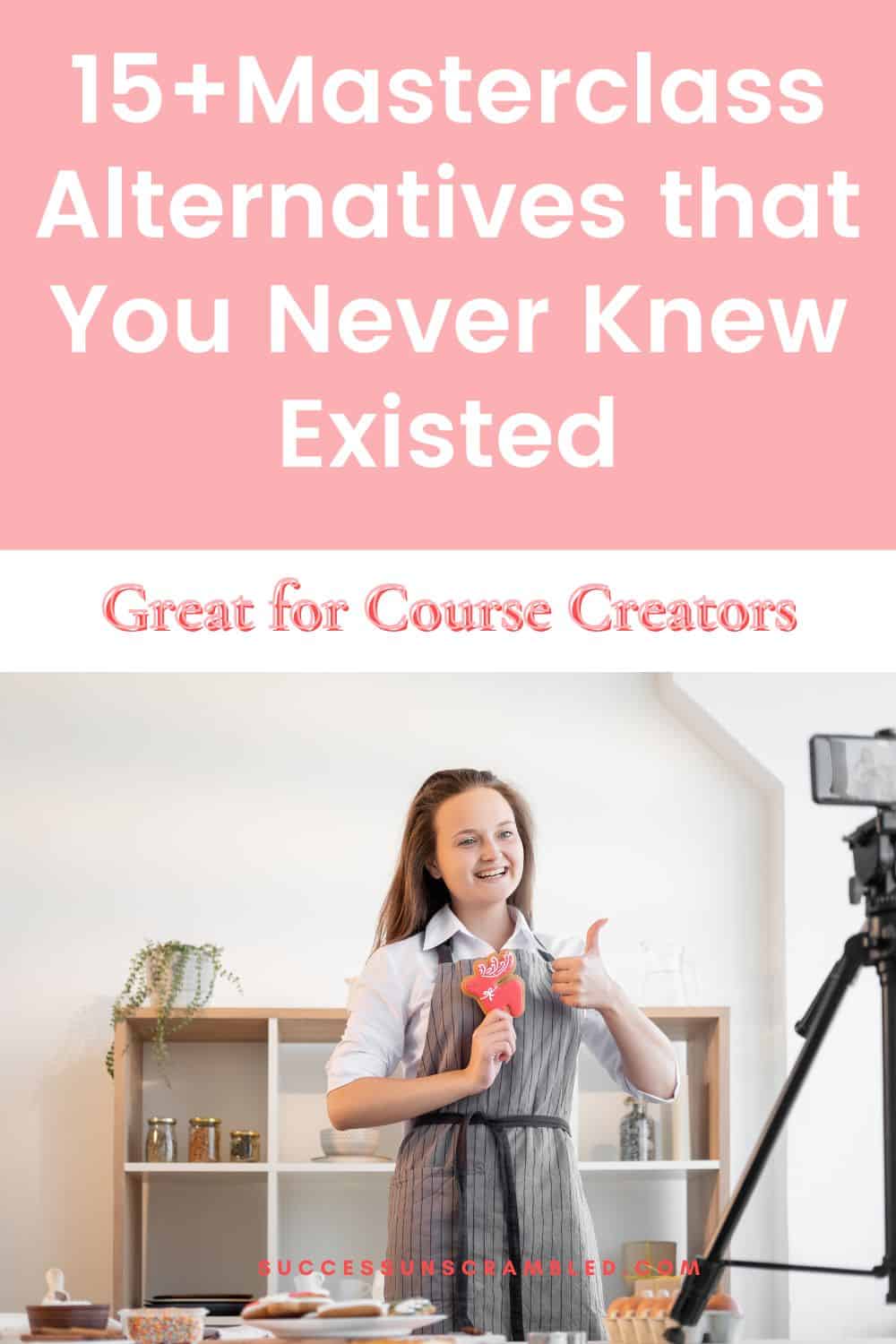 For Learners:
Production Quality of Content
MasterClass courses are known to be well-produced, with crisp audio and HD video. I mean, who would want to pay just to binge-watch grainy videos?
If you're all about visually appealing content, go for platforms that maintain the production quality of their courses.
Industry
You may have noticed that my list specifies which industries a platform is known for. I did that so you'll know which platforms have the best instructors in every industry. This gives you an idea of where you can take up courses that can best serve your field of interest.
Certification
Admit it. Seeing your progress in black and white hits differently. Certifications can bedazzle your portfolio with higher credibility, which leads you to more money-making projects and greater job opportunities. 
Does MasterClass give certificates? The answer is NO. So if your line of work takes certifications seriously in the hiring process, it's best to explore platforms that provide certificates from accredited institutions and organizations.
Interface and Viewing Options
Everybody wants to make their lives easier. In case you prefer a simpler and toned-down user experience, choose a platform that's easy to use and has smoother navigation.
If you're always on the go, you need a platform with a mobile app where you can view videos on-demand so you can study anytime anywhere.
If you're a learner who enjoys interacting with your instructors directly, you might like platforms that offer real-time classes and direct messaging options.
Conclusion
Learning something new means investing time, effort and money. MasterClass aims to inspire people to learn a new skill from celebrity experts they admire, but it doesn't offer a hands-on system of teaching that you can get from most of the alternatives I mentioned.
In this digital age, we humans crave authenticity and valuable connections. When choosing an online education platform, it feels good to have a sense of community.
So, my advice to students and instructors is to choose what feels like home to them, as that will have a positive impact on your career and personal growth.
Some platforms offer a buffet of great courses, and if you're a learner who wants to acquire a combination of skills from 2 or 3 totally different fields, then by all means, enjoy the buffet.
But if you're someone who wants to focus on a specific skill set, then select a platform that is known for the industry you want to grow in.
If you're a business owner who's planning to build a knowledge business empire, you might want to test the various programs on my recommendations first, and the best way to do that is to put those free trials to good use.
Then see what features suit your needs best. Choosing the best online course platform doesn't have to be a chore.
I'll tell you more about my personal experience with these Masterclass competitors and help you choose the best option when you book a call with me.
While we're at it, we can talk about how you can achieve your goals as a course creator and entrepreneur.