Podcast: Play in new window | Download (Duration: 29:25 — 41.1MB) | Embed
Subscribe: Google Podcasts | Spotify | Amazon Music | Stitcher | Email | TuneIn | Deezer | RSS | More
Anna felt stranded, she heard that growing a community on social media is a great way to generate a consistent income online.
But she wondered, how to build an online community that is engaged.
A few years ago, Anna made a first attempt at building an engaged group on social media but it went quiet pretty quickly.
This time she wants to do it right so that she can have over 1,000 engaged group members in 90 days.
As you know, social media has become a part of our everyday lives.
Whether we're talking about posting pictures and updates on Facebook, tweeting about our latest activities on Twitter, or sharing funny memes on Instagram, social media has become a major source of entertainment and information.
Social media platforms are also powerful tools for connecting people and building community. Platforms such as Twitter, Facebook, and Instagram bring people together. Facebook groups in particular are great online communities.
If you want the students in your online course to be able to connect and learn from each other you are probably interested in how to build an online community. But building an online community isn't always easy.
This guide will walk you through the steps needed to build an online community.
What Is an Online Community?
An online community is a group of individuals who share common interests and goals. The members of an online community may be connected through a website, blog, forum, Facebook group, or any other form of digital communication. 
Online communities provide a platform for individuals to interact and collaborate around specific topics. They also allow businesses to connect with customers and prospects.
For course creators, online communities serve as a powerful learning tool.
Facilitating connection between your students and allowing them to learn from each other improves the overall learning process. Your vibrant online community can also drive sales of your online course. 
Why Build Your Own Online Community?
As a course creator, the online community you create will be focused on bringing your students together.
This has obvious benefits for your students in the form of a space for them to ask questions about course procedure or content, and to learn from each other.
However, it also has benefits for your online training business including turning satisfied students into brand ambassadors. 
Creating an online community can ultimately increase the money you make from selling online lessons. Students who actively engage in your online community are more likely to find that they receive a benefit from your course. 
This will lead them to purchase further courses and increase your revenue. Happy students will also help you reach a larger audience.
If they are happy with the benefit they have received from your course, and from being with like-minded people in your shared space, they can refer new people to your online platform.
Your online community will also afford you the opportunity to present yourself as a leader in your field with the social proof of a large online community behind you.
The students engaging with you in your community will also feel a connection to you and be more likely to refer others to your course. Social networks and blog posts can only take you so far. Having real people see and attest to your expertise is great for content creators to showcase their abilities.
Online communities will not only highlight your strengths and build brand loyalty but also point out your weaknesses. Don't worry! This is a good thing. 
Taking the temperature of your online community and finding the content your students are struggling with allows you to improve your course offerings.
Students in your community will also be able to point out any potential technical glitches. Your engaged community can be your first line of quality assurance.
Main Types of Online Communities for Entrepreneurs
There are a wide variety of online communities on the internet. They range from meme-sharing groups to communities for professionals in a geographic area. There are two main types of community groups that will be of interest to course creators that we will highlight below. 
Learning Communities:
What Is It?
Learning communities are built around, well, learning. You would create this online community around your course. You could even consider a membership community. 
Benefits:
Improved student outcomes. Student success benefits not just the student in terms of knowledge gained, but also you as a course creator. Students who have succeeded are happy students who will buy more courses and refer friends. The benefits of an online community have been shown to improve test scores and course completion rates.
Fast social learning. In online communities, students can learn from each other. They can also receive faster answers to their questions. Peer support is also a great accountability feature. A great example of a post for your new community could be an accountability partner post. This post would allow students to find someone they can partner with to ensure they keep on track in their courses.
Course ideas. When you pay attention to what your students are discussing and what they need you might get an idea for a new course! You can anticipate your students' needs and create a course to meet them. Your group members will help you to help them. Finding out what students need will require you to stay engaged in your community.
Brand Communities:
What Is It?
Brand communities are built around businesses. Though learning is your business you could consider a brand community if you offer a variety of courses.
This is a place where fans of your teaching style can engage with you and others and stay tuned for more course offerings. It can be a great complement to your business's social media presence.
Benefits:
Customer retention. Building an online community for your brand will increase loyalty toward your online learning brand. Loyalty is built through engagement and through quick responses to customer inquiries in the community. Online communities are a great place to improve customer service. Members can ask important questions and receive quick answers from the community. You can also respond to these posts and follow up as needed.
Product feedback. Your brand community will be filled with your fans and they make ideal targets to test new ideas. As you trial ideas and offerings with them you can gather feedback and improve the product. In this case, your business goals are met via your in-house focus group, your online community!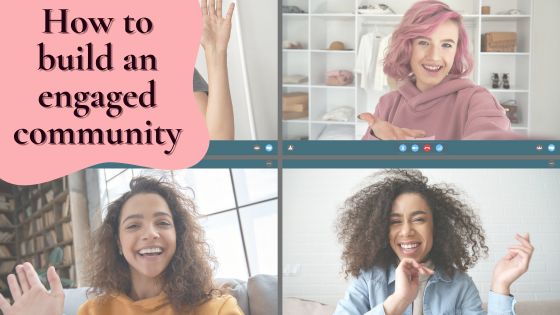 A Guide to Building a Successful Online Community
Now that you understand the value of building an online community around your course or your online learning brand it is time to learn the steps to do it.
If you find that you need further guidance after you've read through the steps you can schedule a call to discuss it with me. The best option always is to just get started!
Define the Purpose and Goals of Your Own Community
What type of online community do you want to grow? Online communities can have more than one purpose but it is best practice to identify the main purpose of your community. 
While you want to leverage your community to increase course sales this will not necessarily be done by marketing to your community but rather by the members feeling that they are receiving value from the community.
The best way to ensure students find value in your community is by building a great community. You want it to be a space where people can come together around a shared interest. 
Where they can learn from their peers and share their successes. You might also use your community as a space for people to find employment if your courses are geared toward career change or the business world.
Build a valuable community rather than focusing exclusively on how you can improve your sales.
The goal of your community should be based on meeting the needs of your online course students. You also want to increase their engagement in the community. 
It is best to define a few key performance indicators (KPIs) to make sure you can track whether you are meeting your goal. This will keep you and your community focused. By tracking you can also find what is and isn't working for students and tweak it to improve their experience.
Determine Your Ideal Community Members
Before you begin your community you will need to establish who will be in it. Determining the members will help decide the tone and direction of the community. As an online course creator, you have a few options.
You can opt to have only currently enrolled students in your community. This creates an online community focused on learning and your course content. 
Your online community would like a study group where students can seek answers from each other and hold each other accountable for reaching goals.
If you opt to only have current students in your group consider having another place for them to move once they complete the course. This keeps them engaged with you and your content.
You can also allow students who have completed your course into the community. The community can remain focused on your subject matter but will probably have a larger scope. 
Allowing former members lends itself to job or opportunity posts. Former students can also ask expansion questions. Since they have mastered your content they can bring additional ideas from the field to the community. 
This could give you ideas for additional courses! They can also help current students if they are so inclined. Perhaps most importantly to you, they can decide to enrol in additional courses. 
A big consideration is whether you want to open your online community to potential students. An online community can be a great place to convert potential students into students. 
However, it might not mesh with the feeling of the group to have someone not enrolled, or previously enrolled, in the course in the community. You would also need to ensure that your community has rules against posting course content in the group. 
While having potential students as members of the group would be done with an eye to entice them to join, you don't want to give them the whole course for free.
Create Guidelines and Rules for the Community
Alas, the internet is not free of conflict. To avoid your online community becoming a troll party it is imperative for you to set up rules and guidelines that govern the behaviour of both your community members but also your moderators. 
By setting clear expectations for everyone involved in the community-building process you can do your part to create a peaceful corner of the internet.
A key thing that your rules should address is that rude behaviour is not allowed. Draw a line between debate and harassment. While your subject matter may lend itself to passionate debate you don't want community members crossing the line. 
Set rules regarding language, personal attacks, and doxing. You will also need to specify that discrimination of any kind will not be tolerated. Learning is for everyone after all.
The scope of topics allowed in the community should be clearly defined to keep the group cohesive and everyone on the same page. Off-topic personal discussions can help build a sense of community but you will need to consider their downsides.
They can derail the group from its main focus and possibly create conflict by bringing up contentious issues. Defining the topics allowed means that everyone will remain on the same page.  
A possible solution to this is to specify a specific post or day per week for off-topic comments. This will give your group the feel of an in-person community without clogging group members' feeds with things unrelated to the subject they are learning about.
How moderators will handle digression from the rules, whether it be a rude comment or an off-topic post, should also be defined. You can consider warnings for first offences, post-deletion, or group bans depending on the severity of the offence.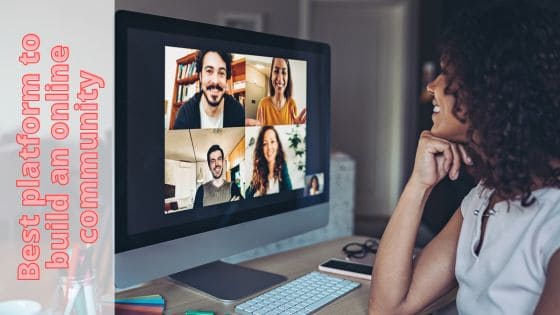 Choose Your Online Community Platform
When considering creating an online community your mind might jump straight to a Facebook group. While Facebook groups are a powerful player in online communities they aren't the only show in town. Consider all of your options before settling on one.
Free Community Platforms
Free community platforms are great because, well, they are free. These include the ubiquitous Facebook group and also other communities like subreddits and LinkedIn groups. 
They have the advantage of being easy to start up. No coding or WordPress plug-ins are required! They are a great option if you need to get an online community started quickly.
Besides being free and easy these platforms offer the benefit of a built-in user base. Your students probably already have a Facebook account and can connect with your community easily. 
As opposed to hosting your own community, where students will have to create new log-ins and learn a new platform. If you decide to allow potential students in your group you draw them in through their searches on the platform. 
Branded Community Platforms
Building a branded online community will involve building your own site. Once you've built your platform you can offer it for a membership fee as opposed to free community platforms which are always free for your members. 
Another benefit of the branded community platform that might make it worth investing in is that you completely control the experience. You can ensure your students are focused on your content and each other rather than being distracted by ads. If you do run ads you can decide their placement and keep the revenue generated from them.
Determine Key Players in the Community
If you are currently running your online course creation business solo, congratulations you have found your key community player. It is you! You will be the main admin of your group and be responsible for fostering it and helping it grow. It is an important role but can also be fun!
If managing the community becomes too cumbersome you can consider hiring a community manager for your Facebook group. This person would be responsible for monitoring the group for issues and engaging in posts in addition to you. 
If that is not within your budget you can reach out to your community and see if there are any volunteers to moderate the group to keep it a great space for everyone. 
Do you run a larger business that already has separate roles? Then consider who should be engaged in the group and what their role will be. If you have customer support they should be a part of the community to answer questions. 
Sales should be a part of the team for marketing purposes. If there will be multiple team members in their group clearly define their roles and make sure they are invested in fostering a community spirit.
Set Up and Create Your Community
Once you have considered the above, it is time to create your community. If creating a branded community platform you will need to design and build the site. 
If you are hosting on a free community platform, customise it to the degree the site allows. Make sure you have a cover photo that quickly reflects the group if using Facebook groups for example.
You will want to ensure that any membership questions you might require are posted. Also, have your rules and guidelines somewhere clear and accessible. Test your community for glitches. You want to launch your new community to be a seamless process.
Increasing Community Involvement
Once you have begun your online community it is time to fill it with students and start developing connections. In the beginning, you might need to engage in more posting to give students something to engage with and prompts to respond to. 
Once the community has had time to establish itself your members will begin generating content. You will need to stay involved however to moderate and to ensure the goals of the group are being met.
Some ideas to get the ball rolling include themed daily posts like Monday Goals or Share what you are proud of Friday. You can pose questions to your community. You can create posts that allow members to find an accountability partner.
Encourage everyone to introduce themselves! These are just some ideas to get you started.
Expand Your Online Community
Once your community begins you'll want to grow it. Some ideas to attract members to your online community include emailing a link to your email list and including a link on your website. You can promote your community via your social media channels. You can also encourage members to invite other members.
As your community grows it is important to continue to look at the KPIs you selected. Keep track of the rate your community is growing at.
Watch engagement on various posts and what percentage of members post monthly. Also, watch how promotion in your group affects sales.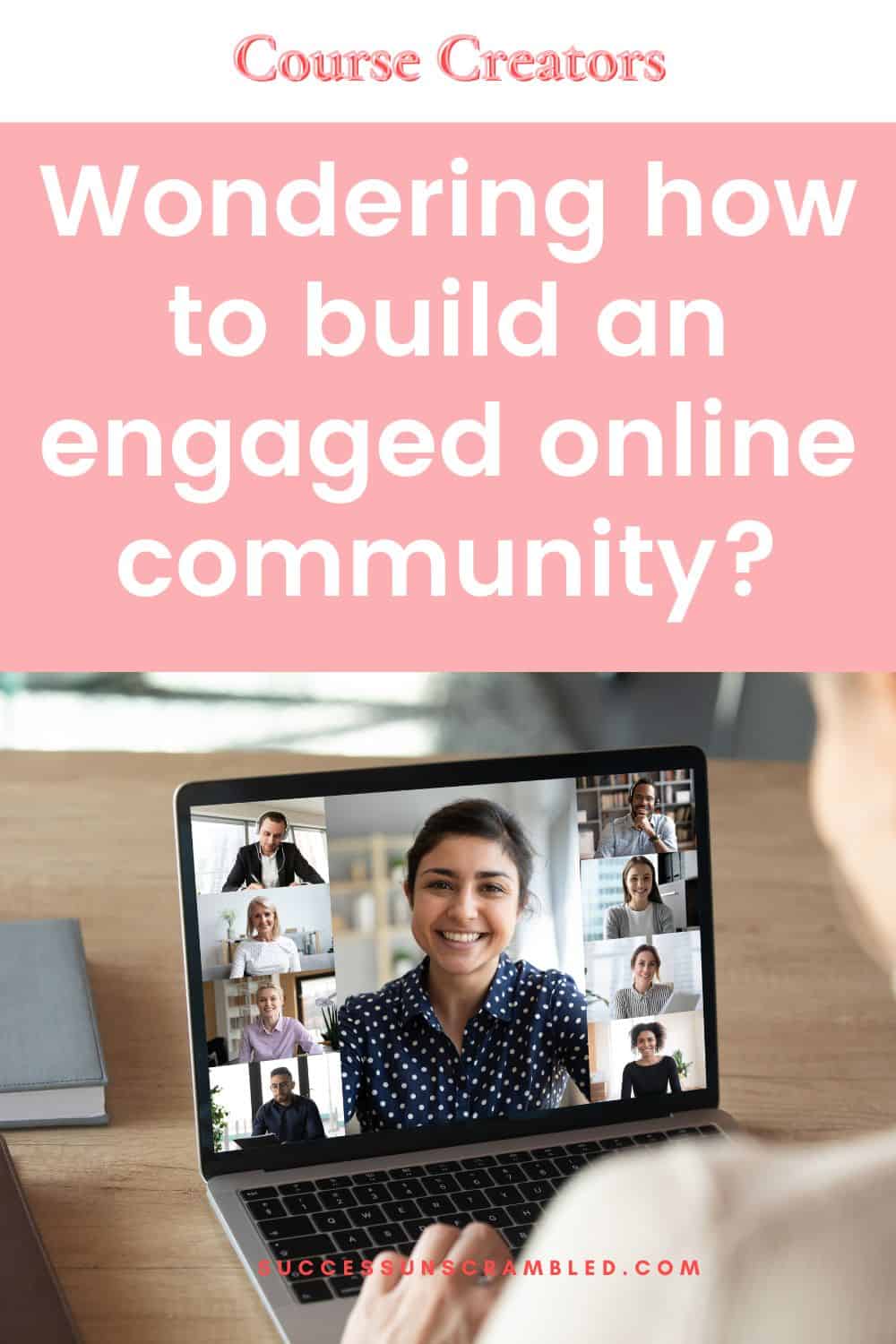 How To Manage or Handle an Online Community?
Now that your online community is established, it's time to start creating content. You can write articles, answer questions, host discussions, and more. Just make sure that your content meets the guidelines laid out in your community rules. 
This content will provide your community members with something to engage with as the community begins to grow. 
Even after your community is active and posting its own content it is a good idea to keep posting content regularly so that your community members see value in being a member of your community.
Remember that students who feel connected to you and your courses can help drive sales by referring their friends and family. 
You have a thriving community. Now it's time to engage with your members! Ask them questions, respond to their messages, and encourage them to participate in discussions. Even if you are no longer generating the bulk of initial discussion posts you still need to be active and engaged with them. 
Monitoring activity in your community is essential to keeping things running smoothly. You have established community rules and guidelines for a reason. You must continue to monitor the community to see that the guidelines are adhered to. Doing so will create a better, safer space for everyone. 
Check your analytics regularly to ensure that members are engaging with your content and that your rules are being followed. If your community is not receiving high engagement from its members it isn't doing its job. You can use analytics to tweak your strategy in your community and hopefully develop engagement. 
Responding to comments and questions is key to maintaining a strong community. When members leave feedback, thank them and address their concerns.
When they ask a question, reply promptly and offer helpful advice. If they post a success, encourage them. To develop an active online community you too must be active in it. 
Conclusion
Building an online community, whether it be on a free community platform or a branded community platform, can be a powerful piece of your online course creator toolkit. Developing these communities allows you to engage with your students, build loyalty, and increase sales. 
The steps in this guide are easy to follow and will lead to a strong online community. Make sure you take the time to carefully consider your goals in creating the community and what you would like the community to look like.
Monitor your group after it is created and keep actively engaged in it. If you are considering starting an online community as a part of your online course creator journey check out our 90 Days in 90 Minutes social media bundle. This offering will help you confidently create content for your community.