Podcast: Play in new window | Download (Duration: 28:16 — 39.6MB) | Embed
Subscribe: Google Podcasts | Spotify | Amazon Music | Stitcher | Email | TuneIn | Deezer | RSS | More
Betty wants to automate client appointment bookings so she wants to see a Calendly vs Acuity comparison.
You see Betty is confused about which one of these online appointment scheduling platforms is better for her business.
She is a business coach helping business owners to become unstuck.
Many small businesses become stagnant when they get to a certain revenue level.
Betty offers a 3-6 month program where she offers business consultations.
She spends way too much time playing "email ping-pong" to get a meeting booked.
Let me know if this sounds relatable.
Your focus is to do more income-generating activities daily
You spend 20-50% of your day setting up meetings
There are way too many manual touchpoints in your new client acquisition process
If only there was a way to have a seamless workflow that takes your clients from booking a meeting through to onboarding then off-boarding.
In this post, you'll understand the differences between Acuity and Calendly.
You'll also learn how to automate the online booking process.
5 Reasons to Automate Your Online Booking Process
For many small businesses, having an automated system is a dream.
The reason why they crave automation is that manual processes take time.
If you are the only person in your business you'll reach a limit quickly.
Even if you have a small team they can only accomplish a small number of tasks each day.
This is why it's important to consider streamlining your business workflow.
Here are 5 reasons to do so.
You would get more done in less time
Your buyers have a better user experience
You'll get more referrals
Human error is greatly reduced
You'll easily spot the bottlenecks
Notice how much better things will be for your business and revenue bottom line.
While all these reasons are great the challenge you'll face is figuring out the best system to implement.
Every business is different even though they may share the same business model.
Calendly – Acuity Alternative
As of January 2021, Calendly was worth $3 billion but it wasn't due to overnight success.
It was founded by Tope Awotona when he got an idea for an online appointment system.
He had 3 failed startups before finally striking gold with an appointment booking app.
He decided to use his savings and fund the project himself and his plan worked.
In 2014, he raised seed money to the tune of $550k from Atlanta Ventures.
As a result, Calendly has been profitable since 2016.
Calendly Pricing
There are 5 options available with Calendly prices.
These include Basic, Essentials, Professional, Teams and Enterprise.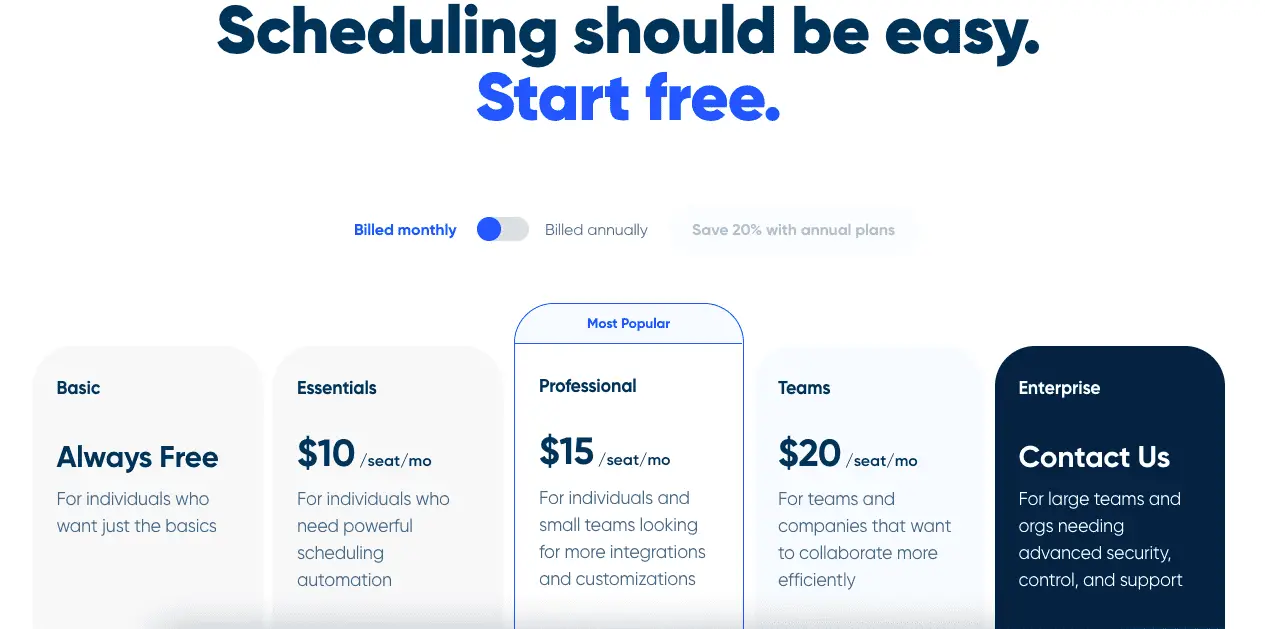 The good news is that there is a free version available if you'd like to try it out or if your budget is restricted.
Calendly Features Free Verison
In case you are wondering about the restrictions with the free or basic version, here's what you get as standard.
The ability to connect Google, Office365, Outlook and iCloud calendars
You can create only one event type
Unlimited 1 to 1 event bookings
Booking link customization
Automated event notifications
Access to the mobile app
Add branding to your booking page
Embed Calendly on your website
Integrate with Intercom, Slack and Zoom
Help centre
I'm sure you'll agree with me that having all those features in the free version is mind-blowing!
How are they even making money?
Additional Features Pro Version
So, if the free version comes with all those bells and whistles why bother to upgrade to pro?
Here are those additional features.
Connect up to 6 calendars on the platform
Create unlimited events
Offer a collective of one-off meetings
Create group events
Send email reminders and follow-ups
Customize email notifications
Update your cancellation policy
Add links to your confirmation page
Create automated workflows
Redirect invitees to another resource
Manage events across your team (especially if there's an emergency)
Remove Calendly branding
Embed to your website with your own branding
Collect payments
Over 700 app integrations
I don't know about you but this list of features seems to be enterprise-level stuff.
Take a Peek Inside Calendly
When you first sign up you'll be asked to enter a few essential details.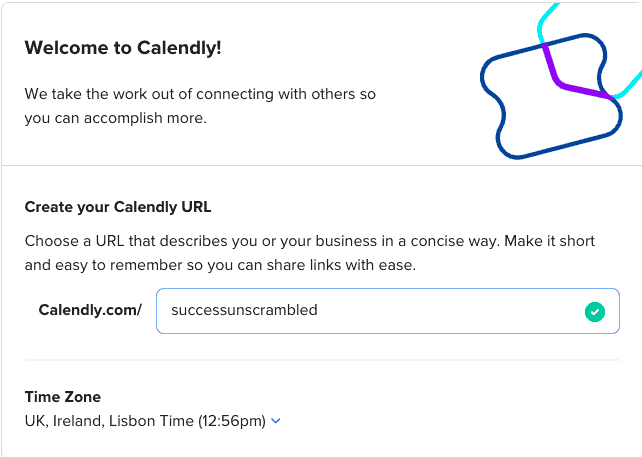 You get to customise your calendly link with your brand name.
On the next screen, you'll be encouraged to connect your calendar.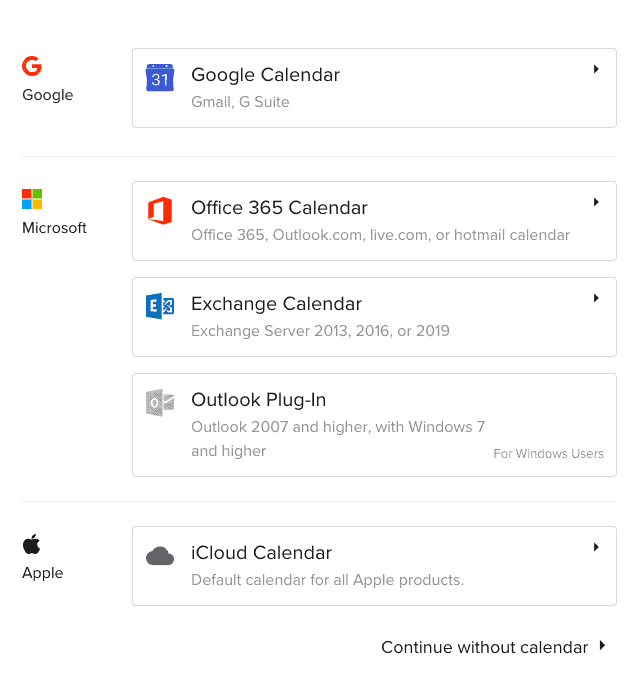 I really like the fact that they have your iCloud calendar as an option for Mac users like me.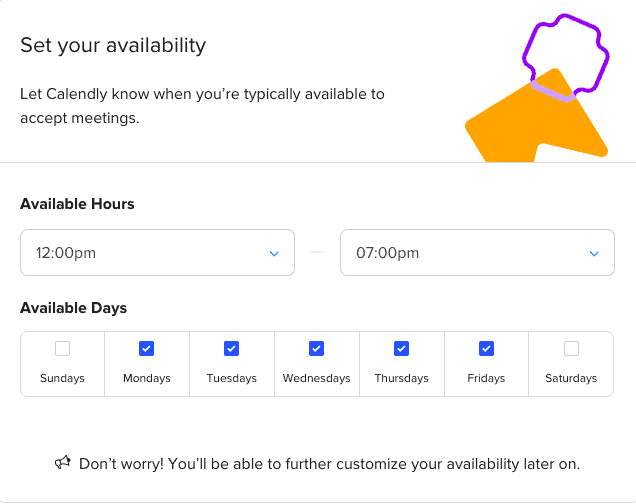 Remember to update your availability preferences for the standard workweek. I almost forgot that I don't do meetings on a Friday.
You'll be asked to describe your role so that they can provide a tailored experience.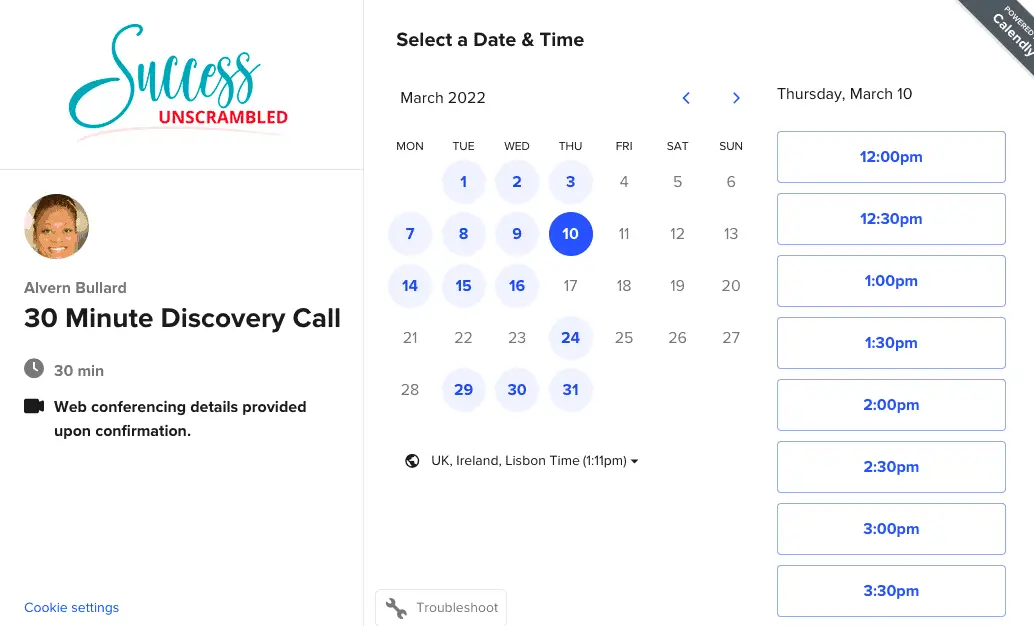 After adding your meeting type, branding and profile photo then your Calendly booking page would look similar to mine.
Calendly Workflows
Are you curious about workflows inside Calendly?
This is a feature that's not available in Acuity which makes this very exciting.
When you sign up for Calendly you'll get a free 14-day trial of all the bells and whistles including workflows.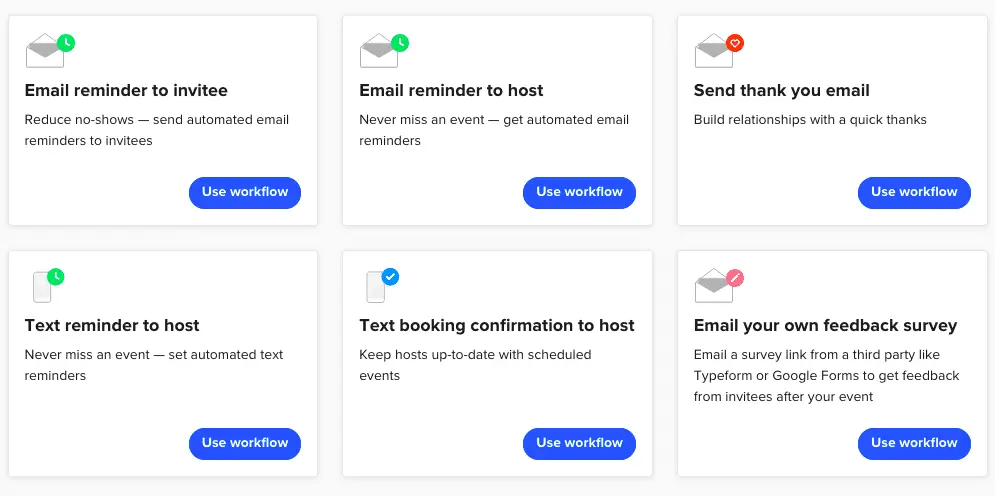 Notice these first 6 workflow examples.
They range from sending email + text reminders, confirmation text + email to the host as well as a thank you email and feedback survey email.
Other workflow templates include emailing additional resources and requesting a follow-up meeting.
So, you're probably wondering if you can create your own workflow.
The answer is yes, but the options aren't as extensive as you might think.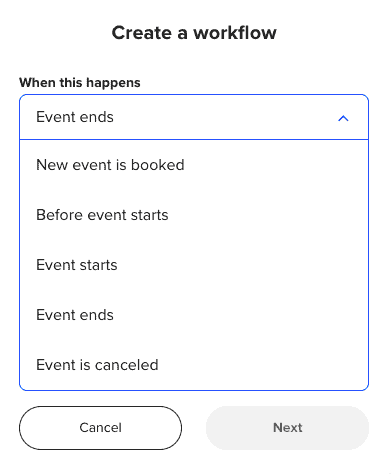 As you can see these are the triggers that need to occur before an action can take place.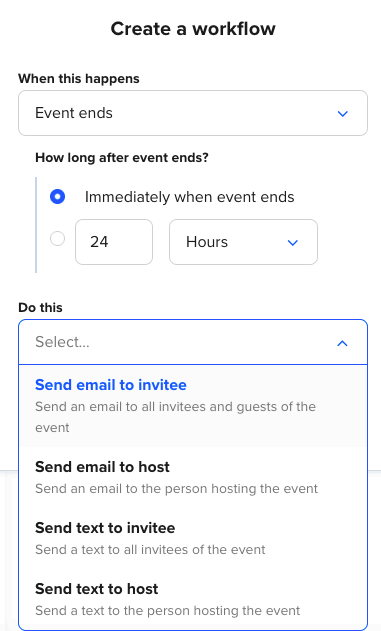 There are only 4 actions available which are sending an email or text to the host or invitee.
Calendly Intake Form
So, what about a case where you want your prospects to complete an intake form?
You can see in the above screenshot, you can supply a list of qualification questions to ensure that they are the right fit.
Or simply to segment them into high, low or medium tiers.
You can use a combination of radio buttons, checkboxes, single lines, a text area and/or a phone number.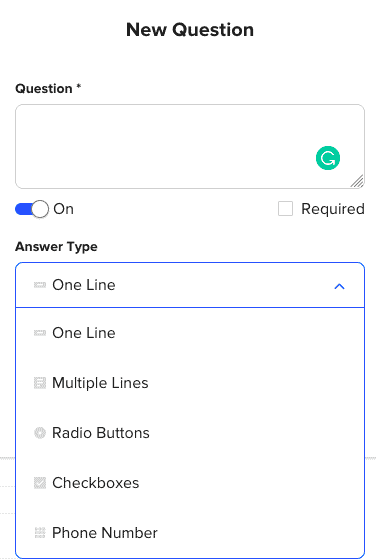 It means that only highly qualified leads are able to book an appointment in your calendar.
Here's an example with a mini booking form.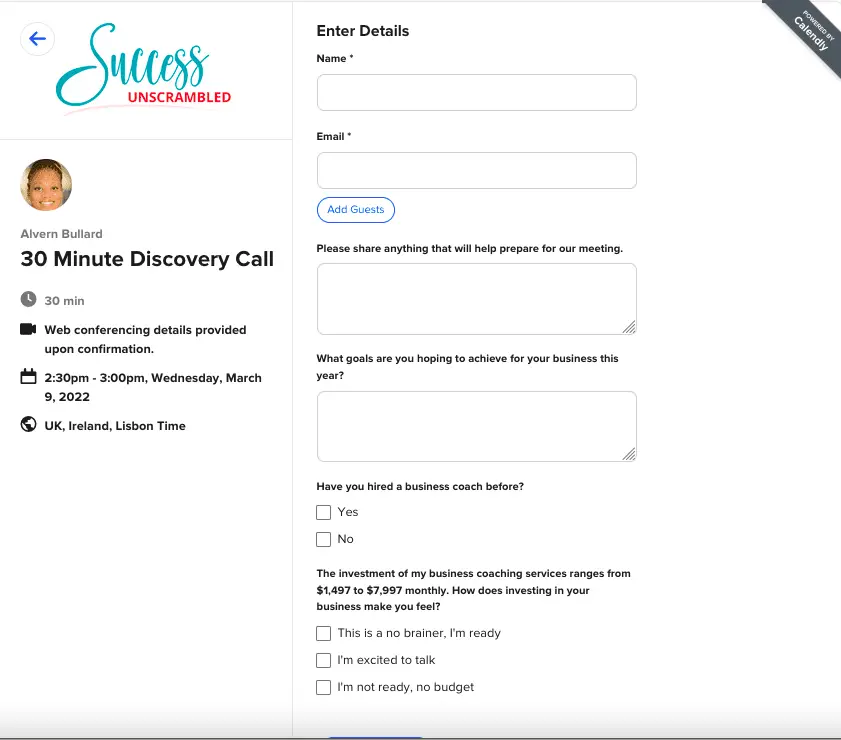 While I haven't included radio buttons in this example, I believe it can give you sufficient information to make a decision.
Additional Users
If you need to share your Calendly account with other members of your team, you can achieve this in the Admin Management menu.
It only cost $12 extra per user per month to add team members on the "Teams" plan.

It means you can easily divide up client tasks with team members.
These can include onboarding, project management, inbox management, payments, operations and customer service.
Another great use case is if you have a sales team and you want to assign leads in a round-robin format.
The goal is to have a streamlined process to keep your clients happy.
Acuity – Calendly Alternative
I've been using Acuity for a number of years so I log in using the Acuity platform and branding.
However, if you're new to Acuity, you'll be prompted to create an account using Squarespace Scheduling.
Acuity Scheduling was acquired by Squarespace back in 2019. It's crazy how time flies so fast.
Gavin Zuchlinsky founded Acuity Scheduling back in 2006.
The story to Acuity is so cool, Gavin's mother was a massage therapist and she would spend a lot of time setting up appointments.
On seeing this Gavin decided to solve the problem for his mom and created an online booking solution.
Acuity Pricing
A few years ago when I first signed up to Acuity, they had a free plan available.
However, all of their plans now are paid plans for new users.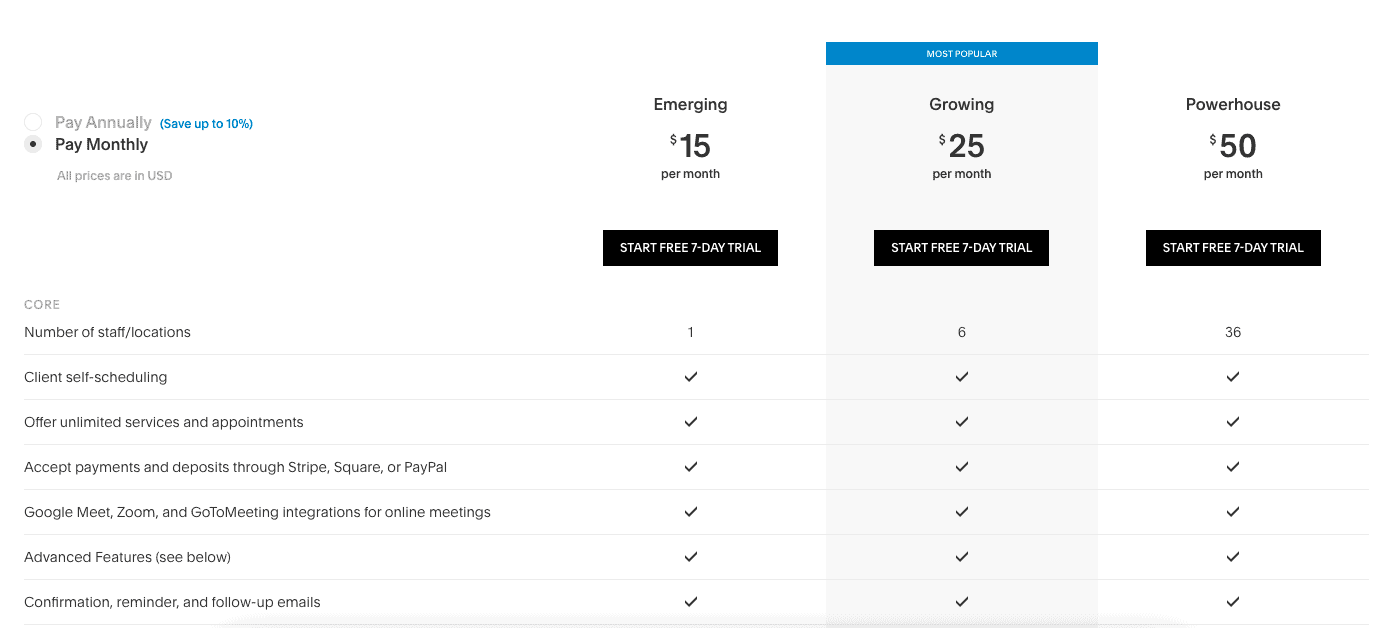 You can try it for 7-days free of charge but there are limitations during the trial period.
Unlike Calendly there are only 3 plans available for potential users. The price starts at $15 per month.
Acuity Features
In order to understand what comes as standard for $15 per month let's look at the features.
Unlimited services and appointments
Accept payments
Integrate Zoom + GoToMeeting
Confirmation reminder and follow up emails
Automatic time zone conversion
Display your brand colours and logo
Embed scheduler
Offer group events
Upsell clients with add-ons at checkout
Sync with external calendars like a Google calendar
Offer coupons and discounts
One staff member only
Straight away you can recognise a number of limitations when compared to the pro version of Calendly.
I'll do a side by side comparison, later on, to make it easier for you to compare them.
Reminder Emails
While Acuity doesn't offer workflows, it does give you the ability to send out confirmation emails.
You can also send out reminder emails in order to reduce no shows.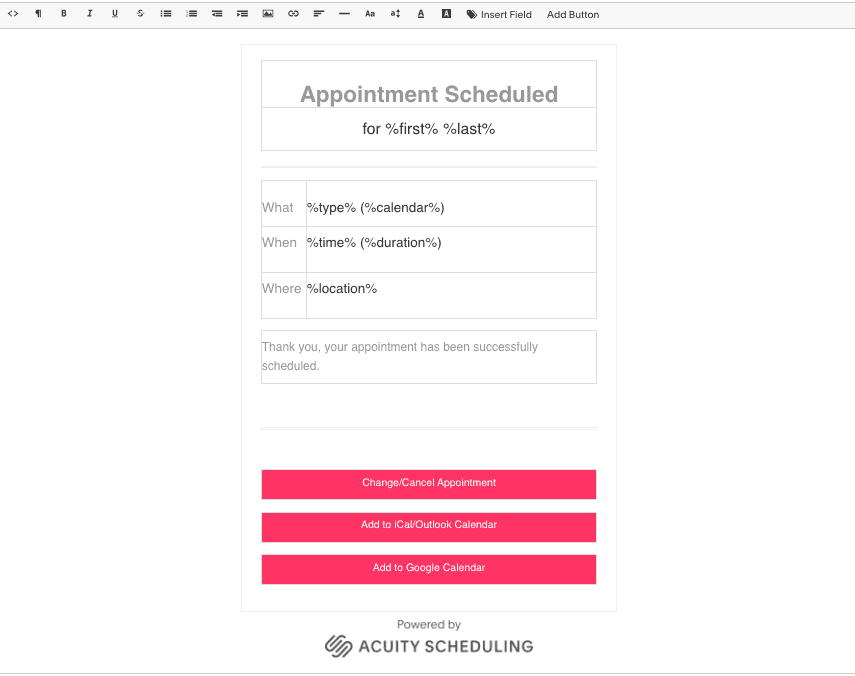 The email template is somewhat customisable as it allows you to personalize your messages.
Acuity Intake Forms
In a similar fashion to Calendly, you have the ability to create booking forms inside Acuity.
Here's what the appointment booking page looks like.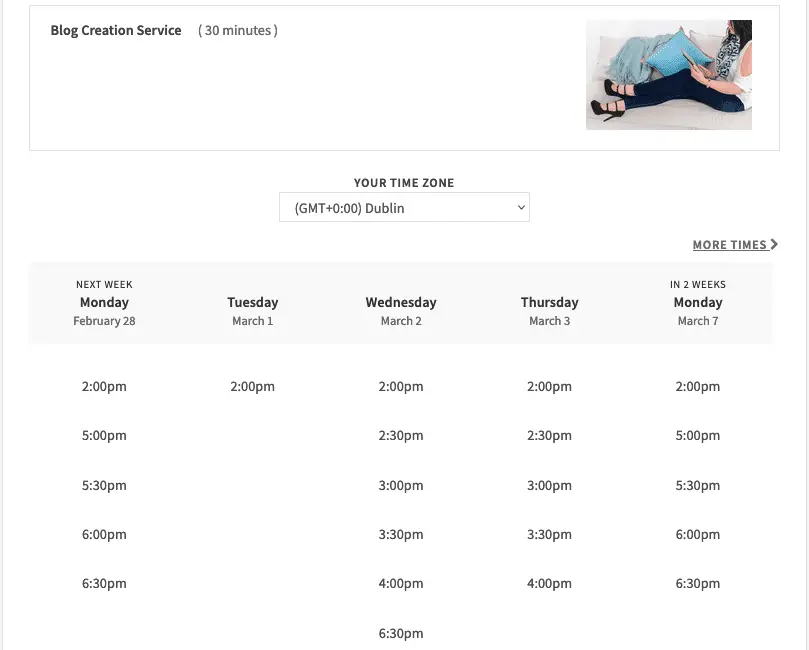 I created a number of booking forms over the years as you'll see in the screenshot below.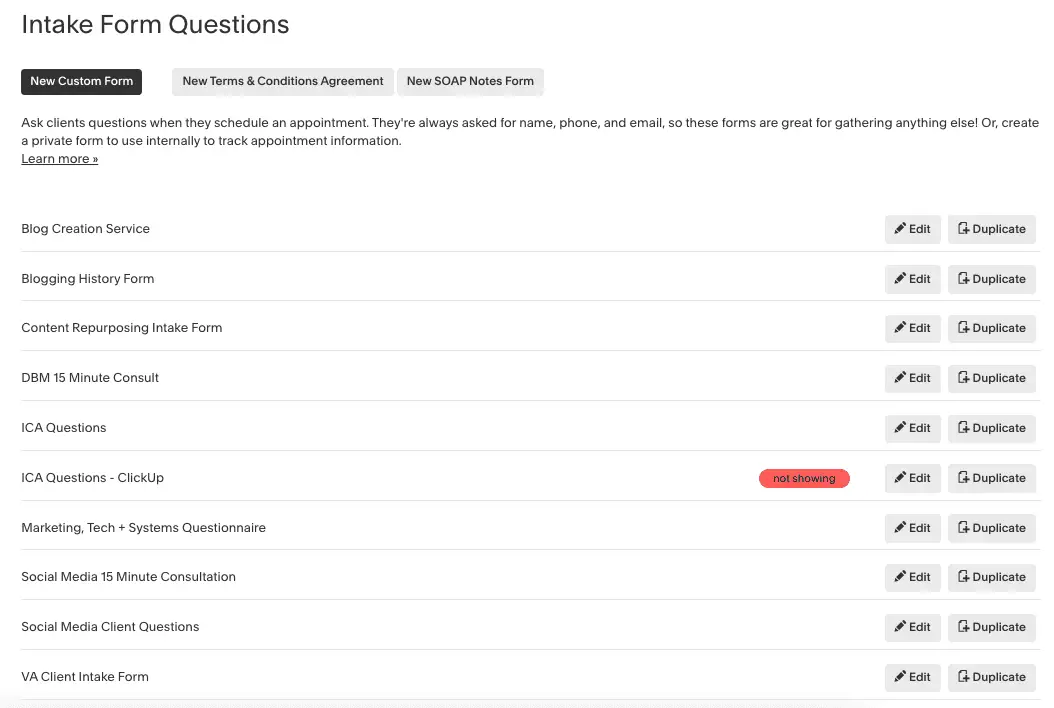 Finally, you can see what the form looks like from a user's point of view.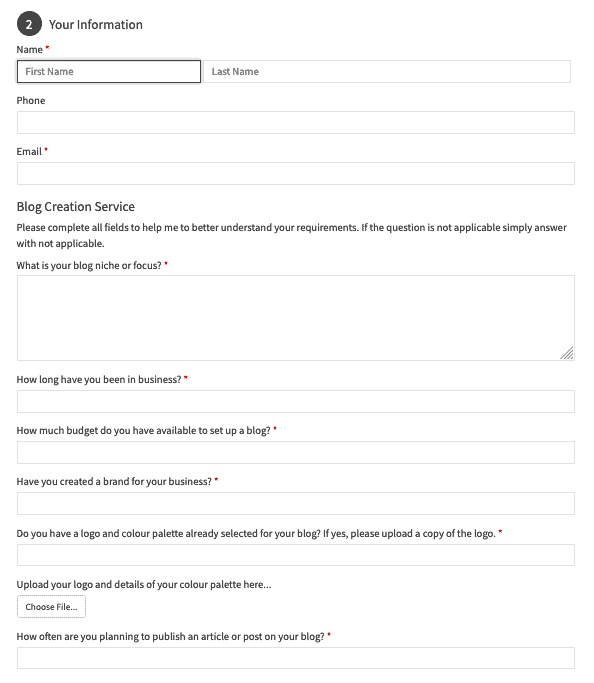 Once you have a payment provider connected, it's very easy to process payments during the booking.
Acuity vs Calendly – A Side by Side Comparison
Now that you have the detailed information on each scheduling platform, it's time to do a side by side comparison.
You'll notice that Acuity and Calendly have different price plans so it is slightly difficult to compare Calendly's free plan with Acuity.
Instead, I'll be comparing Acuity's Emerging plan with Calendly's pro plan.
Calendly
Easy scheduling for entrepreneurs
---
2 different calendars per person
Unlimted services + appointments
Accept payments
Connect Zoom
Mobile access
Sync calendars
Confirm, remind + follow-up emails
Display branding
Auto timezone conversions
Group events
Intake forms
Embed on website
Acuity
Streamline your business booking process
---
1 User
Unlimted services + appointments
Accept payments
Connect Zoom
Sync calendars
Confirm, remind + follow-up emails
Display branding
Auto timezone conversions
Group meetings or events
Upsell clients at check out
Intake forms
Embed on website
As you can see both options are very similar in terms of features available for your business.
The Calendly booking page has a neater layout with fewer clicks.
Acuity is better for clients to book recurring appointments weeks in advance.
If you are not technically savvy the setup process for Calendly is much simpler.
Acuity has a higher learning curve but it has additional features like upsells at check out.
One thing that stands out in terms of the $15 plan on Calendly is that you're able to share it with team members.
Summary
Using Acuity or Calendly to offer a self-serve option for potential clients to book time in your calendar makes sense.
Betty can either embed it on her website and/or share the link in her emails.
It's like having an online assistant for her calendar management.
While this solution will not solve all of her workflow challenges, it's a step in the right direction.
She'll be able to let her clients schedule meetings by choosing a time slot while she's asleep.
She can accept online payments, via credit card, and reduce the quantity of no shows.
Are you looking to streamline your business systems but don't know where to start?
Maybe you get redfaced every day whenever a ball is dropped or tasks fall through the cracks.
Is doing all the manual repetitive tasks keeping you awake at night?
If you want to stop doing all the things and get an automated workflow setup book some time in my calendar here.
Over to you, are you using an online booking system in your business?
Announcements
Remember to subscribe to the Success Unscrambled podcast where you will be the first to hear what's happening in the entrepreneurial and digital marketing world.
Your positive review of this podcast is vital to keeping it alive and running for the next 12 – 24 months so please leave a positive 5-star review for us on iTunes, Spotify or any of your favourite podcast players.
Many small business owners continue to struggle to do everything manually which slows the growth of revenue.
Not too long ago I was in this same position until I learned about automated workflows.
I started this blog in 2017 because I had a burden on my heart to reduce women's illiteracy globally.
Because this is a huge undertaking I have decided to help 1,000 women over the next 10 years to become wildly successful in their online business through simplified marketing strategies.
That way we can build a strong business network of women who can donate 1% of their profit and together we can help reduce women's illiteracy worldwide.
Would you like to be part of this movement? Shoot me an email using alvern (at) successunscrambled (dot) com.