Podcast: Play in new window | Download (Duration: 22:53 — 31.4MB) | Embed
Subscribe: Google Podcasts | Spotify | Amazon Music | Stitcher | Email | TuneIn | Deezer | RSS | More
Shownotes:  How to create a Facebook page that rocks – part 2 is the title for today's podcast, it is part 2 in the series. the four areas we cover are creating the Facebook page, getting your custom URL, getting your first 100 followers and using 3rd party software to automate the posting process.
Alvern: Hello, ladies. Alvern here. Today we are going to be looking at how to create a Facebook page part two. If you have been following along, we did the part one about three or four weeks ago.
I decided to delay part two because I wanted to make sure that I explained the whole niche research process and resources that are available for you to do a proper niche research, because it's so very important that you do sufficient niche research before you create a Facebook page.
All right. The areas we're going to be covering today is the actual creation of the Facebook page.
Then we will be talking about your custom name or custom URL. We will then head over to how to get your first 100 followers on your Facebook page.
Then we will be closing off by looking at third-party software that you can use to manage your posts daily. Let's jump right in.
Facebook Page Creation
You've done all of your niche research. If you didn't get a chance to follow along on part one, I will actually include a link here as well. You've done all the niche research.
You decided on the goal of your page, your Facebook page. You've outsourced or even created the necessary artwork for yourself. You have at least a month or two months of posts lined up. You have all of your content ready, basically.
If you are having difficulty sourcing images at a low cost, I discovered in the meantime, from between my last podcast and this one, this really, really cool resource where you can actually get over 400,000 images that you can access for as low as or for under $30 month.
They not only have images, but they have lots of other resources on there, as well. I include I link to the page. I have a page there that will actually give you details on that, so I'll put a link here as well. Alright.
If you missed part one, please, it's important that you go back and get all of your content ready before you even click the Create Page button, or at least before you publish it … Publish the page to the public.
Because if you don't have the necessary … Or it's not up to scratch then the results that you would get wouldn't be as good as if you had done everything and making sure you result in a really good quality Facebook page.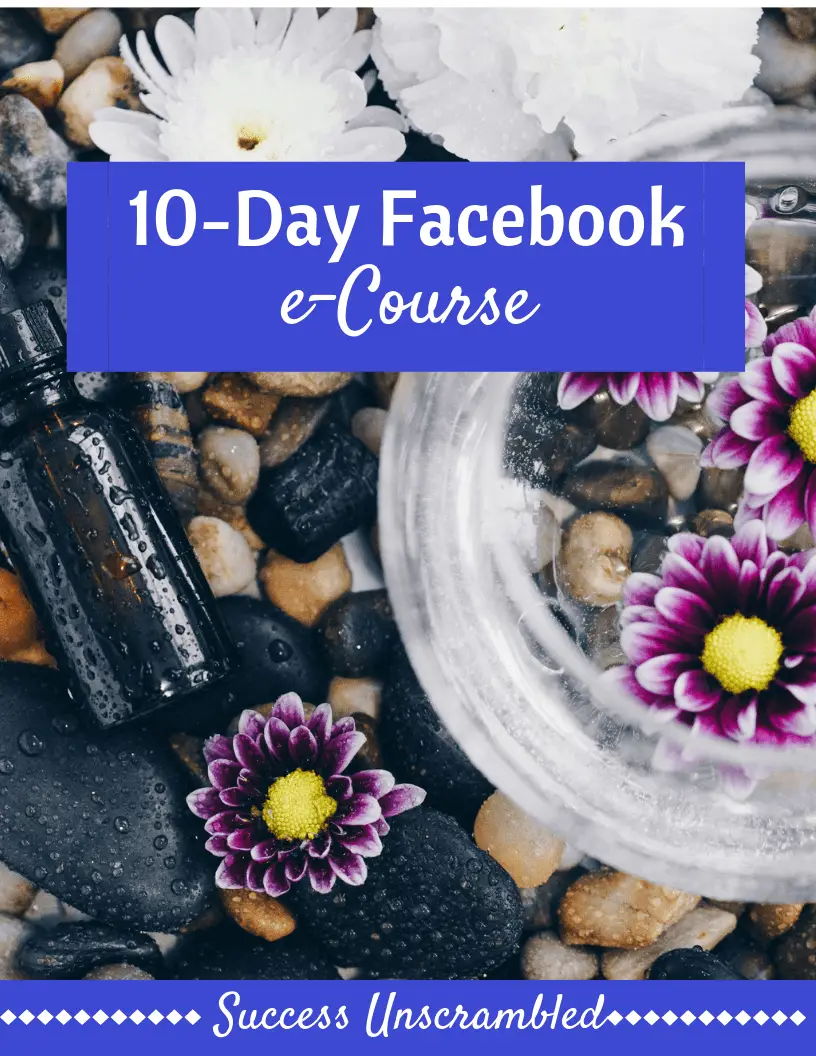 Grab The 10-Day Facebook e-Course
Having a Website is Imperative
Alright. You've all the information gathered. You've registered a domain name. I think I mentioned this in the last one. I'm not 100% sure. The joys of taking longer to do the part two.
Before you create a Facebook page … Well, it depends, really, on what the goal of the page is for. If it is …
The only thing you're going to be using is the Facebook page for … I'm trying to think what you can do.
An isolation of any other external resources. Because mainly, if you have a website, it will really help. Probably something I probably need to talk about.
You got all your information, and what you would need to do then if you don't have an existing website and what you plan to do is sell products or services, or anything like that …
Just remember that one of the most important or best piece of advice I can give you from my over 10 plus years experience doing this, is to please, please, please don't grow your community or your tribe 100% on the Facebook platform.
Because you have to remember all of the content belongs to you. You're putting it on the Facebook platform. The Facebook platform does not belong to you.
You may generate a really beautiful Facebook page, and you have all of the updates and videos and stuff that you put on there. But do have everything hosted on your own website, as well.
So that, say, for example, Facebook changes their terms and conditions, all of your efforts, your entire business isn't held at ransom because of Facebook changing the way they do things.
Yes, it's good to have your social media marketing strategy, depending obviously on the goals of your business. It's good to have rare properties on Facebook or Twitter or Instagram or LinkedIn.
But most importantly, because you're putting all of that content on there, and you would have followers and all of that, and you're building your empire or your business, you want to make sure that no one can hold you at ransom.
Because Facebook, Twitter, LinkedIn, Pinterest, Instagram … They own that platform, and although the content belongs to you, they still own that platform and they can change things as much as they do, as much as they want, without your permission.
One of the most important things I'd advise you to do is to make sure that you have a website before creating a Facebook page, or at least, after you've created it, get organised in having your website.
One of the other reasons why it's important to have your website is you can drive traffic from Facebook to your website.
And your ability to get your ads approved much quicker and to be favourable in Facebook's eyes is the fact that you actually have a website that links to that Facebook page.
When you click … So, you have all your website, you've got all your content. When you click the Create A Page button … When you log into Facebook, you would see on the left-hand side or top right …
So, every country, obviously, would have a different view, but you would see the Create A Facebook page … Create A Page button. You just click on that.
When you're going to that, you would see a whole lot of fields. Like, the year you were founded, a description, depending on which country, and you'd have different things to fill out. The website, an e-mail contact. Lots of fields that you would need to get completed.
My advice to you would be to complete every field because you want to show that you are serious. You're not a fly by night person who just wants to con followers to do certain things.
You want to be an established organisation. You want to be viewed by both your followers and by Facebook as being a serious contender in the marketplace.
One of the things that it will ask you to do as well as to decide on what kind of page you are building. Is it a community, is it a product or service, is it a local store? Depending on which option, you decide and reveal both. I'll explain four of the options for you.
If you are a product or service, that's pretty standard and you just choose that once you're selling products or you're offering a service, whether it be consulting services or marketing services or an agency. You would choose that one.
The option where you want to be representing an official brand, for example … If it is that you've been in business for a number of years and you are a recognised brand, you would choose that option. So, an example … Kellogg's or any one of those popular brands. You can choose that option.
You can be an organisation. You could be a non-profit organisation, which can be a brand but it's more like an organisation, an institution like an educational institution. You can choose that option.
You can choose, also, a local store. One of the advantages of choosing a local store is you would be able to show up in the Google search engine. Once you've created a Facebook page, it will link …
It will show up in the search engine as … Because you will be able to put yourself on the map. If it is you have a local brick and mortar store … So, you have an actual physical location where people can actually come in and buy or if you're a hairdresser or anything like that …
Once you create that page, Facebook will ask you to confirm your address or verify that you are who you say you are. Then, you will be more or less placed on the map based on your location.
So, when people go into Facebook and they look at your profile, they can actually see where your location is, and that also helps you rank in the Google search engines, as well as Bing and Yahoo!. Alright.
Like I said, complete every field in the settings. When you go into the settings, it will ask you to complete all of those little details. You complete every field as much as possible, but especially the ones that are relevant. The e-mail address you have to supply.
It cannot be a [email protected]. It cannot be marketing. It should be something a little bit more personal, like a person's name. If it was for me, for example, it would be [email protected]. Alright.
I'm just trying to make sure that I have given you sufficient information so you can be as successful as possible. Most importantly, since you've done your artwork in part one … As part of your artwork, you would have completed a cover for your Facebook page, as well as a sort of profile image, a profile photo.
A profile photo doesn't necessarily have to be a picture of you. It can be. But it can be a picture of something, like if it's a product that you sell, a popular brand or design. You may want to put a picture or logo of that, or your company logo or something like that.
What people would recognise you for. Especially if you're an organisation with probably 20 employees and you don't want to necessarily put a picture of the director. You want to put maybe a logo so people recognise that.
Now, once you have done that … Now, it is very, very possible while you're creating your Facebook page that Facebook will prompt you to get a custom URL. So, depending on your history on Facebook and all of that, there is no hard and fast rule.
Sometimes they let you do it, sometimes they don't. If they don't, don't worry about it. All you need to do is get your first 25 followers in order to create a custom link. I would advise you to go ahead and get that done as soon as possible. Make sure you select a name that represents…
If you have a brick and mortar store, or an existing business, I suggest that you use the name of that business.
So, for example, when you choose a custom URL, for example, in my particular case, it is Facebook.com/successunscrambled. That's because this particular website is about success unscrambled for all of you ladies. Alright.
If it is you don't like the name and you have a plan for changing it, you might want to delay choosing that custom URL, because Facebook only allows you to choose it twice. Make sure you're absolutely 100% sure before you do that. And if it is you have other web properties …
So, if it is you have an Instagram account, Pinterest, Twitter, LinkedIn … And they all have the same name or if they don't, you probably might want to consider making sure they all have the same name. If obviously, it's very long like mine, they have to truncate that name for Twitter, for example.
That's all about your custom name or custom URL for your Facebook. So, you can just send your followers to that custom URL as opposed to having Facebook.com/2384jp, something like that. You actually have your own URL going to your Facebook page.
Getting Your First 100 Followers
Next up then would be getting your first 100 followers. Once you have your Facebook page completed, you would want to drive traffic to that page and get your first 100 followers. Because when you get your first 100 followers, it's much easier than … For people to follow you in a much more scalable fashion.
So, I'll give you an example why it's important. If you went to a restaurant or if, say, for example, you're driving by a restaurant and you see a big long queue of people going into that restaurant, wouldn't that make you curious? You may want to go in and find out what is everybody … Why is everybody queuing for this restaurant?
In the same way, when you have zero followers and you pass this restaurant over and over and there never seems to be anyone sitting in the tables, nobody outside eating, nobody going into the door, it will make you wonder why isn't anybody interested in going to this restaurant? Maybe something's wrong with it.
Maybe the food is bad, or whatever it is. It's the same concept offline as it is online. Ensure that you have …
At least get your first 100 followers. One of the ways you can do that is Number one: You get your friends to like your Facebook page.
Obviously, you have a Facebook account and if it is your employees, have your employees select the Facebook page. Anybody associated with your customers, anybody associated with it, get them to like the Facebook page. That sort of builds your reputation or social proof.
Another way is to drive traffic to that page. If it is you don't have access to friends, which I doubt, even if you have 10 friends get the first 10 friends to like so at least you have something on the page. And then, you can drive traffic by creating an ad and pointing that ad to this particular Facebook page.
I will go into more detail in a different podcast as to how you can actually create an ad for that particular Facebook page. I wouldn't actually go into that now, but the aim is to get your first 100 followers, and if you don't have the cash, then get your friends to like the page.
Finally, we have … Actually, one thing I just realised I forgot to mention … When you create your Facebook page, ensure you have between five and seven posts already on the page before you click the Publish button. Because you do not want people to come and like your page and there's nothing there for them to do. It's all empty.
Nothing to keep them interested. Once you have that page or you complete the settings area with a description and name and all of that, then you would make sure then that you between five to seven posts. The posts could be … Like I mentioned last week you could have …
Oh sorry, not last week. A few weeks ago. You can have images, videos, just generate posts, codes, whatever it is that you want to put on that page.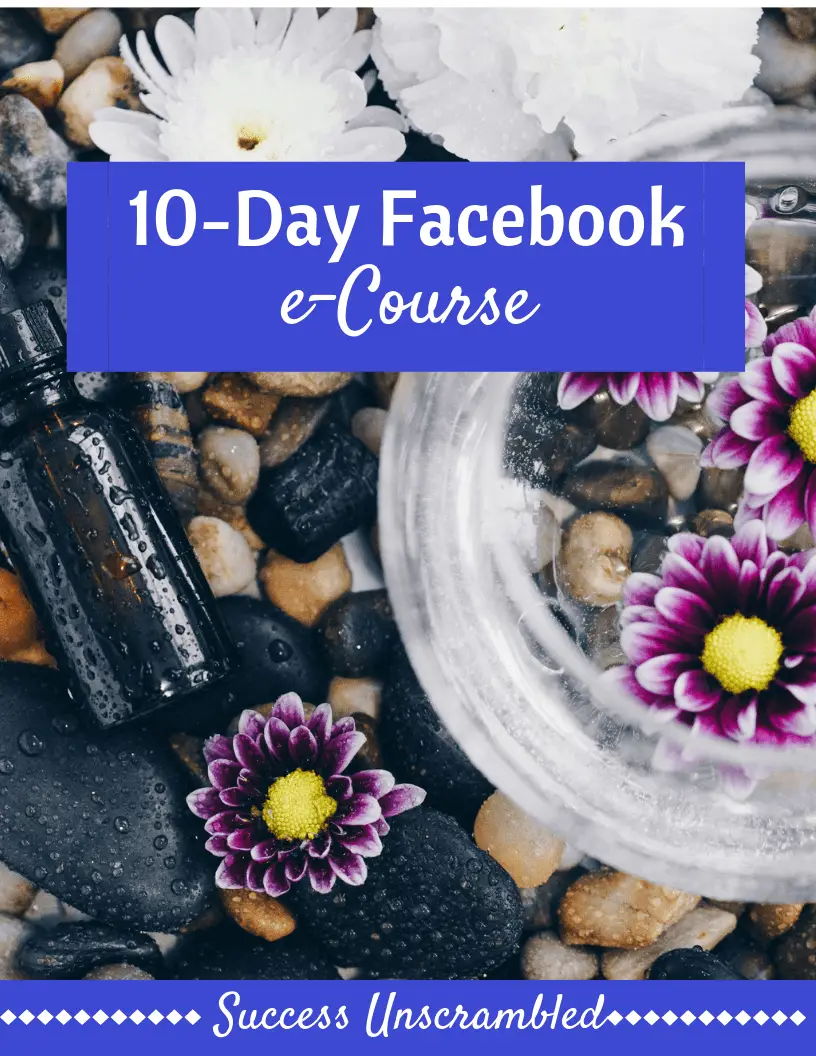 Grab The 10-Day Facebook e-Course
Social Media Management
Finally, third-party software. Once you have the page set up, you want to make sure that you have fresh content going to that page on a regular basis. One of the ways that would help you do this is, obviously, we did the fresh content, creating content in the previous podcast that addresses the Facebook page.
So, you have all that content for one to two months ready and set to go. You use one of the third party software like Haute Suite, Promo Republic, Buffer, or MeetEdgar.
Now, the first three are very standard. There are no differences, probably, except price among the three of them. But the fourth one, Meet Edgar, is a little bit more pricey. The reason why it's a bit more pricey is that it's really good at looping your posts.
Say, for example, you decide that you're going to do one post every day. What Meet Edgar is really good at doing is getting you … Checking to see which post has the most engagement, and then posting that again for you automatically, either once a week or depending on how often … Depending on the engagement. It does that using a specific kind of algorithm. Alright.
You load all of the content, then, into this third-party software for one month, or two months, or three months and you schedule it. It goes up then every day or every week, how often you decide it will go out.
What you need to do then is keep track of how that is progressing. If it is you decide not to use Meet Edgar, I get that. Don't use it unless you a return investment on your Facebook page, because I think it's about $49 a month. But you can use the others. It will allow you then to automatically get that content on your Facebook page. Alright.
That, more or less, is it. I'm just trying to make sure before I let you go that I've covered off everything. Like I said, I'm going to talk about creating Facebook ads in another podcast, not this one. But I hope that you found that useful. I will include links to all the different items I said I would do.
That's it for now. I really, really hope you enjoyed that, and you found it really valuable, and it will actually help you get one step ahead of the competition in your business. That's it, ladies. Enjoy the rest of your day and the rest of the week. Bye for now.
Announcements
You can subscribe to our podcasts to get notified when more success stories become available.  In case you missed it check out my 15-minute video mini training about how I went from zero to over 21,000 views in 30 days on Pinterest.
If you need help setting up your profile on Pinterest or you need someone to manage your Pinterest account on a monthly basis you can work with me here.